Tech News
4TB Samsung T7 Shield review: The best portable SSD gets bigger
At a glance
Expert's Rating
Pros
Fast 1GBps sustained transfers
Excellent real world performance
Vast 4TB capacity
Svelte and handsome
Cons
Not cheap
Small 4K performance glitch under CrystalDiskMark 8 writing 4K files
Our Verdict
If you need a lot of capacity in your shirt pocket, there's nothing better than the Samsung T7 Shield 4TB for most users. It's a very good external 10Gbps USB SSD made better.
Price When Reviewed
$469
Best Prices Today: Samsung T7 4TB
Not Available
Though we've already reviewed the Samsung T7 Shield, we couldn't resist revisiting it for the just-announced $429 4TB capacity. It was a great drive already—our favorite external drive, in fact—but now it's at home with massive data sets.
This new version of the already-excellent Samsung T7 Shield is bigger and faster than ever. What's not to love?
Design
The Samsung T7 Shield 4TB is basically an NVMe SSD nestled inside a USB 3.2 10Gbps housing. The SSD would likely hold up nicely if the enclosure offered 20Gbps transfer speeds, but Samsung stuck with the older, far more common USB 3.2 implementation.
The T7 Shield measures 3.5-inches long by 2.3-inches wide by 0.5-inches thick, and weighs just under four ounces. That's a little heavier than the T7 Touch, but wrapped in a silicone protective sleeve, that's to be expected.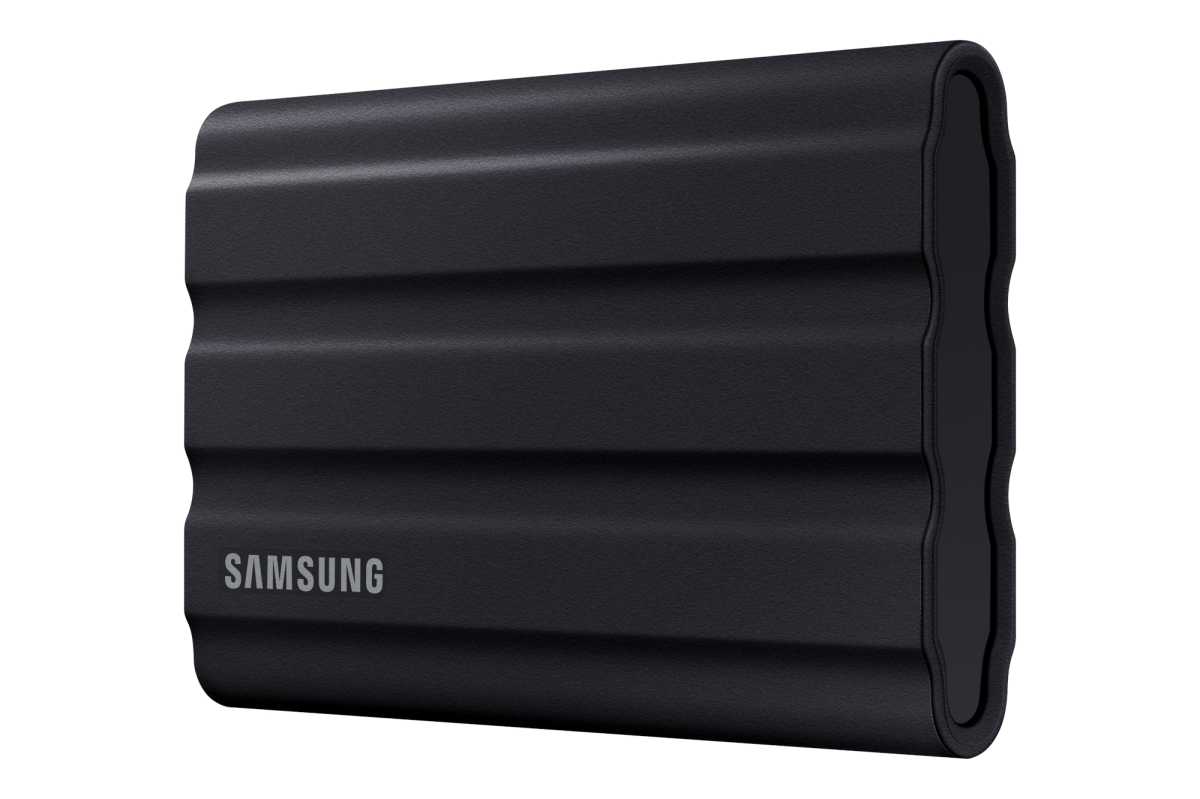 The new 4TB version will set you back the aforementioned $429, but the Samsung T7 Shield is also available in 1TB and 2TB capacities for $160 and $290 respectively (though those models are on sale for roughly 40 percent off at the time of writing). The drive is sold in three colors: blue or beige, in addition to the black model Samsung sent us.
I performed a couple of drop tests from about three feet onto hard surfaces, and with the drive being solid state and protected, there were no ill consequences. Indeed, it feels nice in the hand should you find yourself in a David versus Goliath circumstance.
The T7 Shield's USB connector is Type-C, and both USB Type-A to Type-C and Type-C to Type-C cables are included.
As to the IP65 rating, the 6 means the Shield can ward off most particulate matter, while the 5 means you can spray it with water, if not immerse it. A 7 would indicate that immersion up to three meters is survivable. No doubt the bare Type-C port has something to do with the lesser rating. If you want the complete run down on Ingress Protection ratings, this article on our sister publication TechHive will explain it.
While the T7 Shield lacks the T7 Touch's fingerprint reader, it can still be password-secured using Samsung's Portable SSD software (shown below). To use this feature, said software will need to be present on any computer you want to access the drive from. Honestly, it you want secure, opt for the T7 Touch, which—though a lesser performer—will save you lots of time and frustration by bypassing password entry. Alas, there's no 4TB capacity of the Touch yet. Bummer.
Performance
The sustained large file performance (over 1GBps in some cases) of the 4TB version of Samsung's T7 Shield was no surprise. More capacity generally means more NAND for caching and better sustained throughput–especially with large data sets such as our single 450GB file.
However, the 4TB capacity did glitch slightly in the CrystalDiskMark 8, 4K random write with 32 queues and a single thread test, scoring half what most other drives do. This was not reflected in real world performance and all the other numbers are an overall improvement over the 2TB version we previously tested.
It took a retest to see it, but the 4TB Shield proved the fastest 10Gbps SSD we've tested, finishing only behind the three 20Gbps drives we've tested.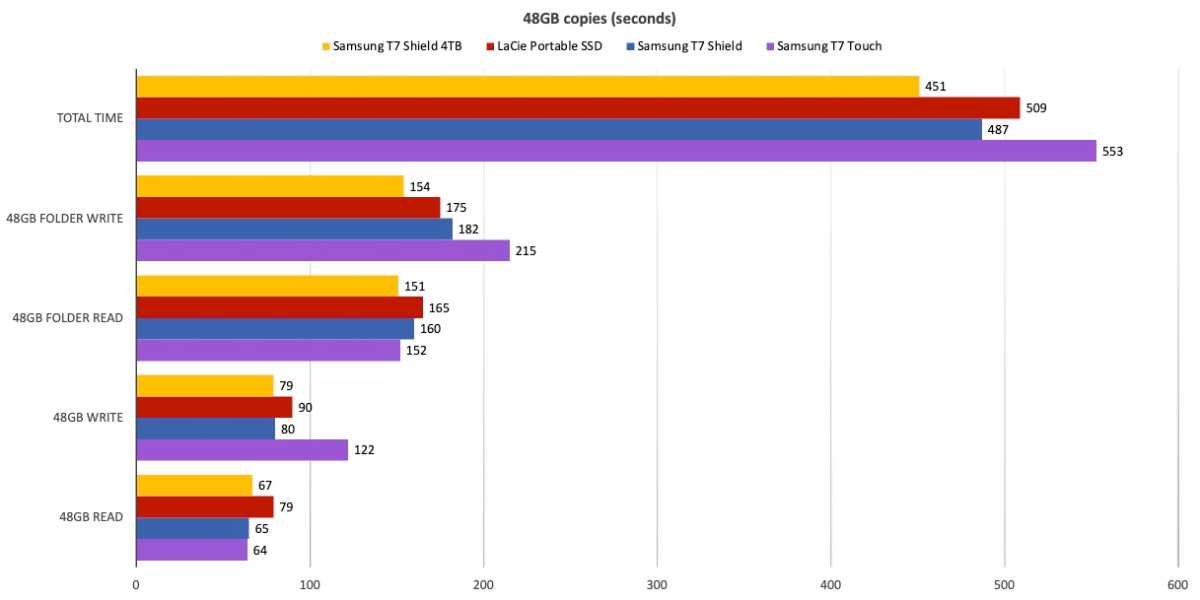 The 4TB T7 Shield was also the fastest 10Gbps external SSD we've tested writing 450GB, and somewhat surprisingly, bested two of the 20Gbps drives we've tested. It placed second overall to the WD Black P50–a 20Gbps external gaming SSD.
Other than the slight glitch under CrystalDiskMark 8 in the 4K writes, the 4TB T7 Shield is easily the fastest 10Gbps external SSD we've tested. As said glitch didn't affect real world operations, we're assigning it little weight.
Vast and quite fast
The Samsung T7 Shield is a great external SSD in any capacity, but the 4TB version was a revelation. Capable of handling the largest end-user data sets, it also features excellent performance, and a decent price per terabyte. It's great stuff for storing your stuff.
External drive tests are run using Windows 11 64-bit on an MSI MEG X570/AMD Ryzen 3700X combo with four 16GB Kingston 2666MHz DDR4 modules, a Zotac (Nvidia) GT 710 1GB x2 PCIe graphics card, and an ASMedia ASM3242 USB 3.2×2 card. Copy tests utilize an ImDisk RAM disk using 58GB of the 64GB total memory. Each test is performed on a newly formatted and TRIM'd drive so the results are optimal. Over time, as a drive fills up, performance will decrease due to less NAND for caching and other factors.

The performance numbers shown apply only to the drive we were shipped and of the capacity tested. SSD performance can vary by capacity due to more or fewer chips to shotgun reads/writes across and the amount of NAND available for secondary caching. Vendors also occasionally swap components, though we've never known Samsung to do so.