Tech News
Acer Predator XB273U F review: The very best motion clarity, full stop
At a glance
Expert's Rating
Pros
Astounding motion clarity
Good color performance
Menu offers many image quality options
Solid build quality and stand
Cons
Competitors can offer better image quality for the price
Stand takes up excessive desk space 
360Hz refresh rate is only available over DisplayPort
Our Verdict
Want the best motion clarity available in a monitor today? The Acer Predator XB273U is for you. Besides the outstanding 360Hz refresh rate, it also packs excellent color performance and good 1440p image quality. Acer didn't skimp on the design either, which has a premium sturdy feel to it. The XB273U is a great display for gamers who play at the highest levels, but it has day-to-day appeal beyond that and even some nice qualities for content creators.
Price When Reviewed
$1,099
Gamers who crave motion clarity should be pleased with the monitors arriving in 2023, and the Acer Predator XB273U F is a first look at what they should expect. It's among the first 27-inch, 1440p monitors with a 360Hz refresh rate, and it relies on a new panel that promises even better motion clarity than older 24-inch 360Hz monitors. The monitor's motion performance doesn't come cheap but does set a new standard for clarity.
Note: Go to our roundup of the best monitors to learn more about competing products, what to look for in a monitor, and buying recommendations.
Acer Predator XB273U F: The specs
The Acer Predator XB273U F is among a new breed of 27-inch, 1440p monitors with a 360Hz refresh rate. This is the best combination of refresh rate and resolution that is currently available. A few monitors with a refresh rate up to 540Hz are announced, like the Asus' ROG Swift PRO PG248QP revealed at CES 2023, but they won't arrive until summer of 2023.
Display size: 27-inch
Native resolution: 2560×1440
Panel type: IPS
Refresh rate: 360Hz
Adaptive-sync: Nvidia G-Sync
HDR: VESA DisplayHDR 600
Ports: 2x HDMI 2.0, 1x DisplayPort 1.4, 4x USB-A, 1x USB-B, 3.5mm audio out
Stand adjustment: Height, tilt, swivel, rotation 
VESA mount: Yes, 100x100mm
Speakers: Yes
Price: $1,099
Refresh rate aside, the Predator XB273U F's specifications are typical for a premium gaming monitor. This is a display built for one purpose: speed.
Acer Predator XB273U F: Design
Matt Smith
The Predator XB273U F is an example of Acer's standard Predator design language. It has a matte black-on-black aesthetic that's mostly subtle, though the rear does add some texture and flair. Surprisingly, there's no RGB lighting at all, leaving gamers to bring their own. 
Build quality is good. The monitor's plastics feel thick and durable. The display has thin bezels, but a somewhat large bottom chin and thick rear panel, which adds to a sense of rigidity and durability. 
Acer offers a wide, tripod-like stand with an aggressive look and sturdy metal feet. It's heavy, offers significant ergonomic adjustment including height and rotation, and does an excellent job of keeping the monitor stable. However, its wide legs take up significant space on a desk. The monitor does include the usual 100x100mm VESA mount, so a third-party monitor arm or stand can be attached.
Acer Predator XB273U F: Features and menus
You'll find three video input options around back: one DisplayPort 1.4 and two HDMI 2.0. The DisplayPort 1.4 port is the only way to use the monitor's full 2560×1440 resolution at 360Hz. That's disappointing but seems to be standard practice for now. Similar monitors, like the Asus ROG Swift PG27AQN, share this downside.
The monitor includes four USB 3 Type-A ports driven by one USB Type-B upstream port, plus audio-out. That's a healthy range of connectivity for a gaming monitor. The USB-A ports aren't easy to access, so connecting a USB thumb drive or SDcard adapter isn't convenient.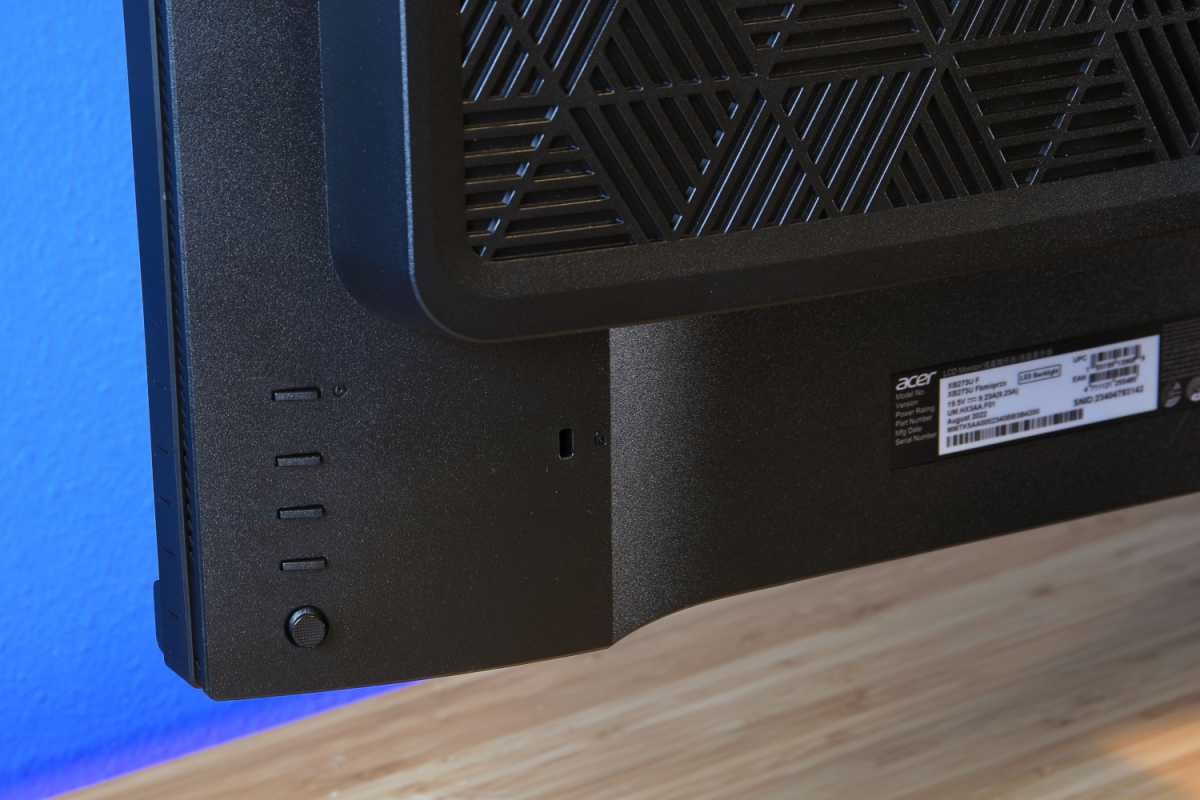 Matt Smith
Enthusiasts should be pleased by Acer's joystick-controlled menu system, which offers a huge range of customization options. This includes five gamma modes, five color temperature modes, and six-axis color calibration. There's also an sRGB mode that can be turned on or off per display input, rather than for the display overall. A quick note: The sRGB mode is turned on by default. There's no DCI-P3 mode, however.
Gamers also have plenty of options. The monitor supports Nvidia's G-Sync Reflex Analyzer, which can be used to measure total system input latency. It also offers a built-in aim point, a black equalizer to boost darkness in shadows, an on-screen refresh rate monitor, and a 25-inch mode (which forces the display into a 25-inch display space with 1080p resolution). All of this is useful for competitive gamers, though I did find the 25-inch mode a bit finicky (it did not always properly detect when my display output was set to 1080p).
On balance, the Acer Predator XB273U F has a great set of menu options and features worthy of a premium gaming monitor. Though obviously targeted at competitive e-sports players, the monitor's image-quality features make it suited to YouTube and Twitch creators looking to create competitive gaming content.
Acer Predator XB273U F: SDR Image Quality
The Acer Predator XB273U F is meant for high-refresh, competitive gaming, but that doesn't mean it can't look good doing it. The monitor's image quality is solid in SDR content.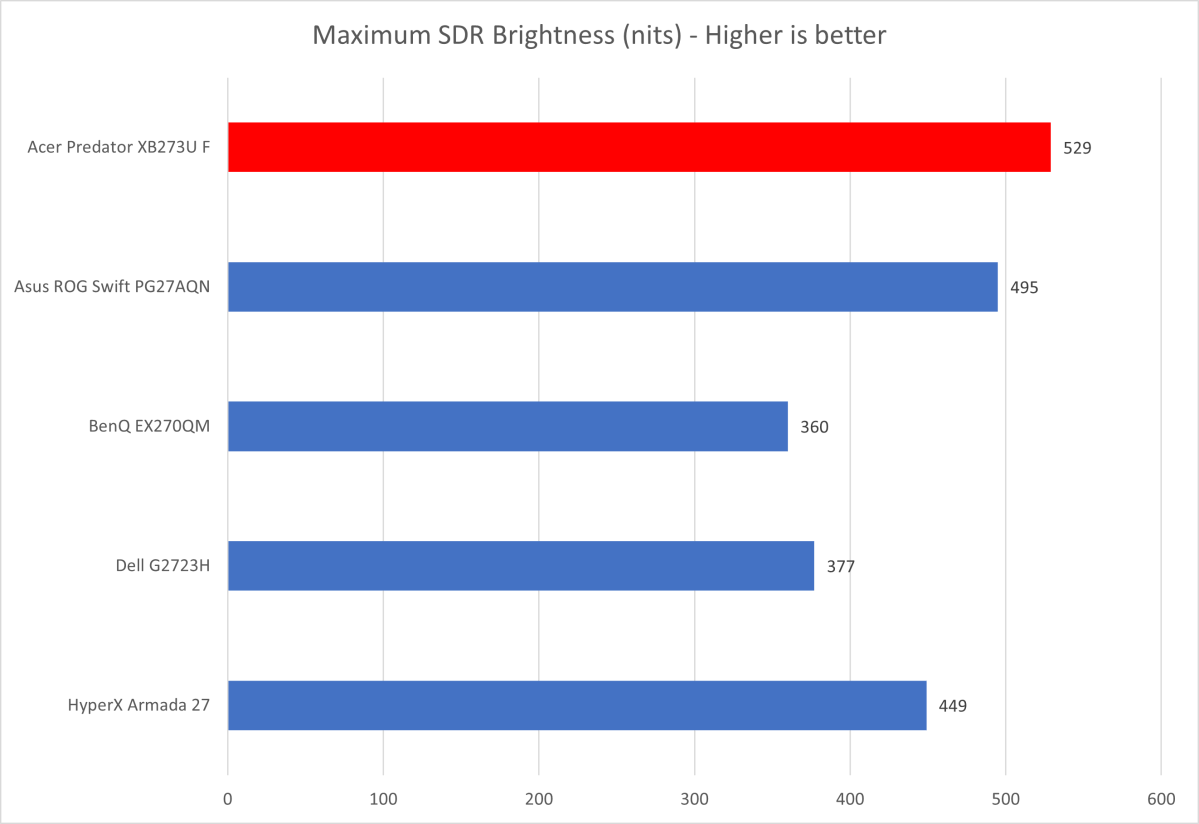 Matt Smith
Brightness is a perk for the Predator XB273U F, as it comes out swinging with a maximum brightness of 529 nits. That's high for SDR content and, in most cases, the monitor will be used at a mere fraction of its maximum brightness. 
This level of brightness might be useful if you find yourself using the monitor in a window-filled room on a sunny day, and it's towards the upper end of what modern IPS LCD monitors deliver.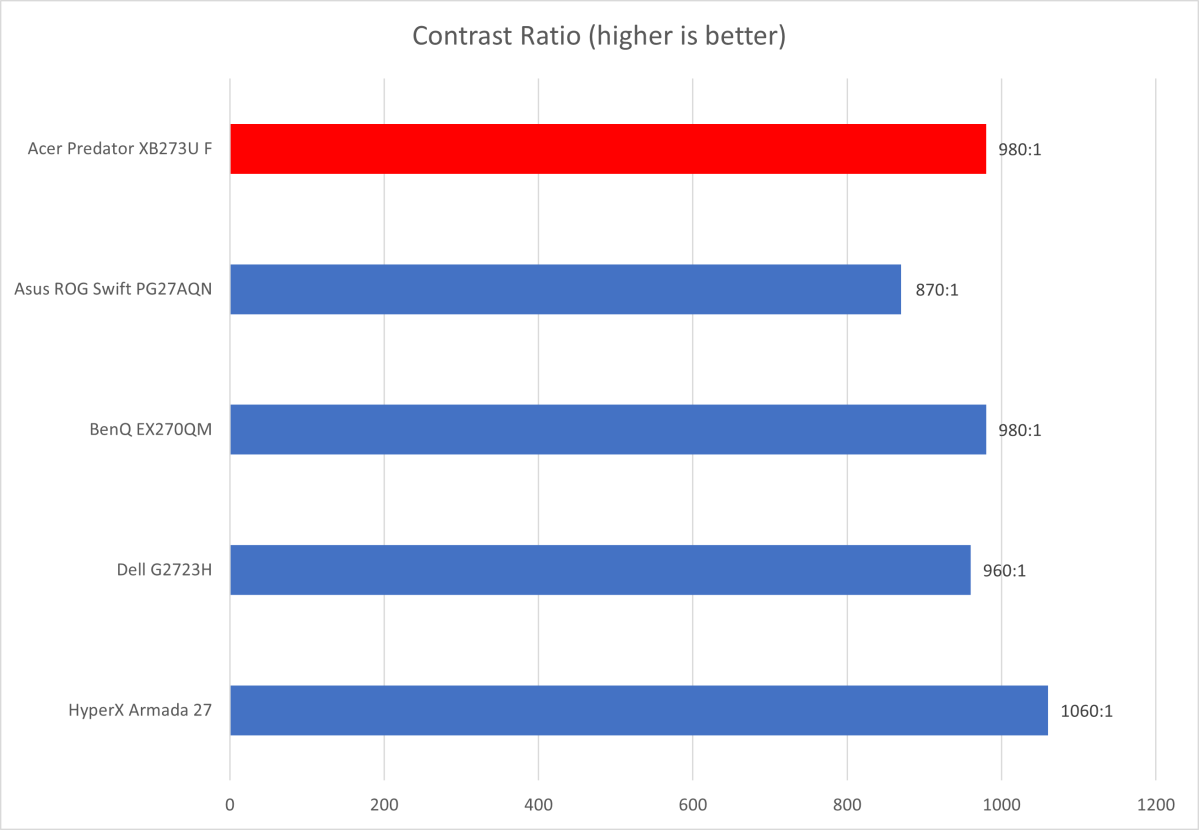 Matt Smith
The XB273U F offers a maximum contrast ratio of 980:1, which is merely okay for an IPS LCD monitor in 2023. It's not the worst, but not the best, and the limited contrast can make dark scenes look hazy and ill-defined. 
It's worth noting that the Asus ROG Swift PG27AQN, a key competitor, performs similarly. The Asus and Acer monitors likely use the same display panel, and there's a strong chance other 1440p / 360Hz monitors in 2023 will, as well. 
Matt Smith
Acer's color gamut performance is good, delivering 100 percent of sRGB, 95 percent of DCI-P3, and 89 percent of Adobe RGB. This range of color gamut is not exceptional among premium monitors, but still great, and provides a vivid, engaging look when viewing colorful content. 
The color gamut is good enough to handle creative and professional tasks including general photo editing, YouTube video creation, and digital art for viewing online. Though meant primarily for gaming, the Acer Predator XB273U F performs about as well in professional content as a mid-range professional monitor like the BenQ PD2720U or Asus ProArt PA279CV (however, the Acer's resolution is lower).
Matt Smith
Color accuracy reinforces the XB273U F's solid all-around performance with precise color in a broad range of situations. This level of accuracy is not the best available, but close, and errors of this degree are very difficult to notice with the human eye. 
The monitor's color accuracy is supported by a reasonable default gamma reading of 2.3, which is slightly off the target of 2.2. Content might look darker than intended, but the deviation is small enough that I didn't notice it subjectively. The default color temperature was 6400K, just a hair off the target of 6500K. This means content won't appear too warm or cool out-of-the-box. Remember, too, that the monitor has many gamma and color temperature options to help owners dial in their preferred look.
What about sharpness? Unsurprisingly, the XB273U F's pixel density of 108 pixels per inch can't compete with 4K alternatives, which have about 163 pixels per inch. Small fonts can appear slightly pixelated and games don't look quite as detailed, especially when viewing noisy textures or extremely thin objects (like power lines or a chain-link fence). Still, 1440p resolution offers adequate sharpness for a 27-inch display, and its disadvantage doesn't leap unless compared side-by-side with a 4K monitor.
The Acer Predator XB273U F's overall SDR image quality is good. It has incredible brightness, great color performance, and adequate sharpness. Contrast is the obvious downside, as the monitor's IPS panel can't produce a deep, convincing black level. The monitor's overall image quality is not good value for money, given its MSRP of $1,099—but speed, not image quality, is the focus of this monitor.
Acer Predator XB273U F: HDR image quality
The Acer Predator XB273U F is VESA DIsplayHDR 600 certified. It proves to be a strong performer in HDR content, though it has limits.
Let's start with brightness. I recorded a maximum HDR brightness of 557 nits. That's not as high as the VESA DisplayHDR 600 certification might suggest, but it's close. And, perhaps more importantly, the monitor did not waver in brightness depending on the amount of the display showing bright content. 
The monitor handles tone mapping and color well at default settings, which is good news for general use. Flipping on Windows 11 HDR doesn't negatively impact color accuracy or grayscale. The Windows desktop looks much as it does in SDR sRGB mode, but brighter.
Contrast remains a problem. Acer tries to improve matters with a dynamic backlight mode, which is on by default. This is an edge-lit monitor with just a handful of zones, however, so the dynamic backlight causes distracting pillars and streaks of light in dark scenes. It's better to turn it off in most situations. This is true of both SDR and HDR, but the dynamic backlight flaws become more obvious in HDR as the monitor's brightness is increased.
The monitor's backlight is also a problem when displaying bright highlights, like the gleam of chrome in a dark alley or a field of stars. There's no way to add brightness to these small slices of the display without also brightening the entire display, which robs scenes of tension and drama. It's a mix, then. HDR performance is ok, but far from the best. A Mini-LED monitor is a better bet if eye-searing HDR is your goal.
Acer Predator XB273U F: Motion performance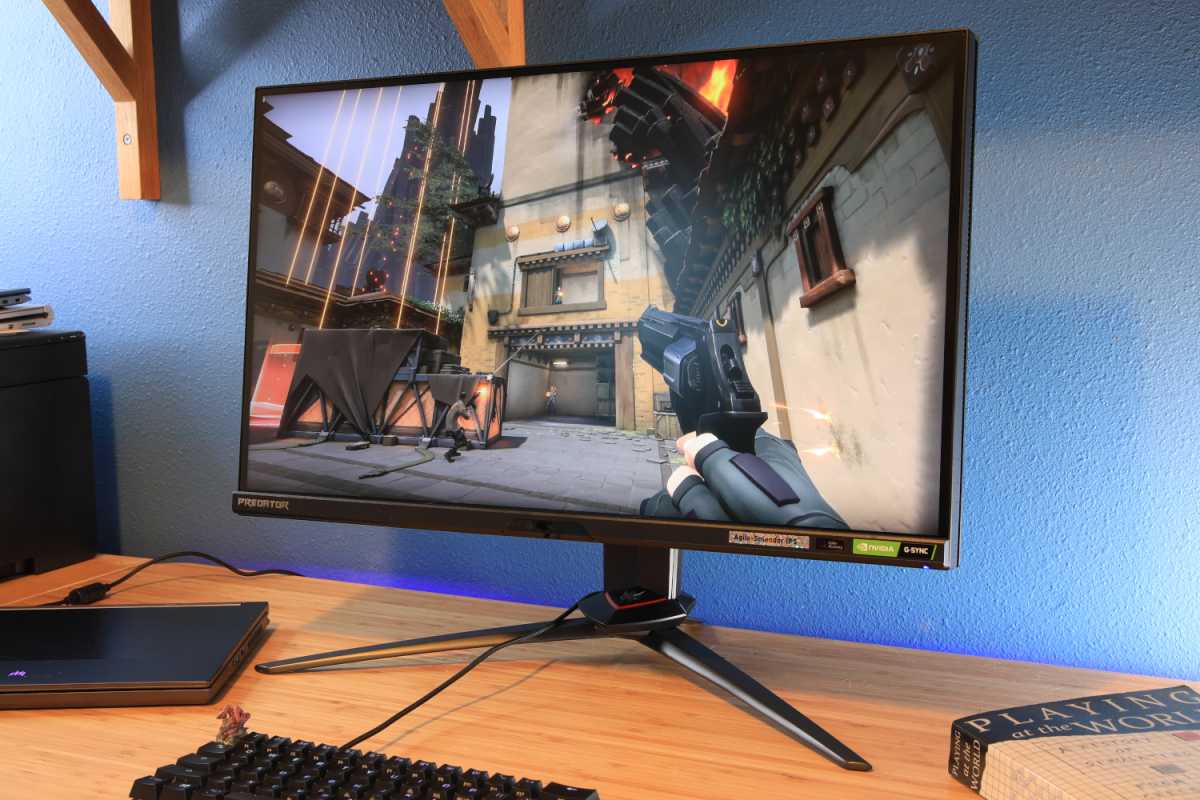 Matt Smith
The Acer Predator XB273U F's strong image quality is certainly nice to have but, as mentioned, it's not the focus. This monitor is among the first 27-inch, 1440p, 360Hz monitors on the market. Motion fluidity and clarity is the goal—and the monitor delivers.
Motion clarity at default settings is superb. Viewing the classic UFO test shows the tiny pupils in the three-eyed alien's peepers are distinct (albeit just barely), while test images from DOTA 2 show that hitpoint bars and hero names are readable. This is an advantage over even 240Hz displays: Hitpoint bars are distinct at 240Hz (especially with OLED displays), but names are difficult or impossible to read, depending on their color relative to the background. 
Gamers should remember that a game needs to achieve 360 frames per second, or close to it, to see the best motion clarity. That means the XB273U F is best used with a top-tier video card like the Nvidia RTX 4080 and AMD Radeon RX 7900 XTX. With that said, motion clarity is still better than most IPS displays at lower refresh rates.
Acer turns on an OverDrive mode by default, and it does cause visible "overshoot." It appears as an over-sharpened look that surrounds bright objects and causes issues in detailed textures. Personally, I would recommend turning off this mode for general use. There's also an Extreme mode that throws caution to the wind and causes major overshoot to achieve maximum clarity. It can make fine details easier to see, but looks butt-ugly, so I'd steer clear.
The Acer Predator XB273U F's overall motion clarity is among the best available on modern gaming monitors (Asus ROG Swift PG27AQN, another 1440p / 360Hz monitor, performs similarly). It's a step above older 24-inch, 1080p 360Hz monitors and superior to 240Hz monitors with an OLED panel. Frame pacing is also excellent thanks to support for Nvidia G-Sync. If you want the last word in motion clarity, look no further. This is it.
Should you buy the Acer Predator XB273U F?
Acer's Predator XB273U F is an excellent monitor for a particular niche. 
Priced at $1,099, the monitor's 1440p resolution and IPS panel with edge-lit backlight can't compete with the quality of similarly priced OLED or Mini-LED displays. 
But that's not the point. This is the best motion clarity available on a modern computer monitor, and it's likely to be the best available at 1440p resolution through the rest of 2023 (though competitors with the same panel will likely match it). The XB273U F is great for gamers who play competitively yet remains versatile enough to work as a day-to-day monitor and handle content creation.