Tech News
Asus ProArt Z790 Creator WiFi: A motherboard for the artist in you
At a glance
Expert's Rating
Pros
Amazing feature set—Thunderbolt 4, 10GbE   
Interesting design aesthetics, understated   
Next-gen DDR5, PCIe Gen 5 
Loads of NVMe, SATA, and PWM fan ports
Cons
Good build quality overall, but plastic on I/O shield feels less robust 
Gamers may not need the features offered here
Our Verdict
The Asus ProArt Z790 Creator WiFi might not have any of the flashy lights and tricks of it's gaming brethren, but what it lacks in showmanship, it more than makes up for in finely tuned precision. There are great features here for content creators specifically including Thunderbolt 4 and 10Gbe networking as well as the latest gen DDR5 and PCIe Gen 5. It packs a ton of functionality into a reasonably affordable motherboard.
Price When Reviewed
$469.99
Best Prices Today: Asus ProArt Z790 Creator WiFi
The motherboard market is often targeted at gamers, with flashy RGB elements and overclocking prowess. While many of those boards have robust features for all users, sometimes content creators need some specific attention. 
As if on cue, here comes the artsy Asus ProArt Z790-Creator WiFi. No Times Square light show here—but you'll get enough creative features to make even Picasso envious. His motherboard likely didn't even have Thunderbolt 4 or 10GbE LAN! 
Together with a simple, understated look, there's lots to digest here for the under-$500 price. We'll break down the specs and features, performance attributes, and design. If you're a creator that needs a certain set of features, this could be the choice over all the gamer-centric motherboards on the market. Let's find out!
Asus ProArt Z790-Creator WiFi: Features and specs
Thiago Trevisan
ATX form factor 
Support Intel 12th- and 13th-generation CPUs 
16+1 Teamed Power Stages with 70 amps per stage
DDR5 RAM, dual channel up to 4 DIMMs (up to 128GB)
4x onboard M.2 slots with Q-Latch (PCIe Gen 4)
2x PCIe 16x slot with Q-Release (PCIe Gen 5 8x/8x) 
Dual DisplayPort inputs and HDMI 2.1
2x Thunderbolt 4 ports
8x USB ports on back (including Thunderbolt 4)
10GbE and 2.5GbE LAN
Wi-Fi 6E 
RGB headers for Aura Sync
8 SATA 6Gb/s ports 
8 PWM fan headers 
BIOS Flashback 
Pre-installed I/O shield 
Realtek S1220A audio codec
MSRP $469.99
The Asus ProArt Z790-Creator WiFi comes in at an MSRP of $469, putting it squarely within midrange pricing. While motherboard prices have gone up, the features you're getting on this will certainly make it a fantastic value. Forgoing the gaming aesthetics is a nice trade-off for the added functionality on the Z790-Creator WiFi. Let's go over the most essential features and what to know: 
CPU choice: You'll get a wide range of CPU choices on this ATX motherboard with support for both Intel's 12th and 13th generation. That's good news. Budget-friendly choices like a 13600K or the powerful Intel i9 13900K will be great here. 
DDR5 RAM and PCIe Gen 5: Next-generation DDR5 RAM and PCIe Gen 5 are also here, giving you all the benefits of the next-gen Z790 platform. DDR5 RAM has great speeds that many workstation-class applications can take advantage of, and with recently decreasing pricing, it's a great future-proof option to have. If you're planning to do 4 DIMMs for large amounts of RAM, carefully check the QVC list to make sure you won't face compatibility issues as DDR5 can still be a bit picky. Otherwise, you'll be able to snap in up to 128GB of RAM goodness! 
Also there are double 16x PCIe Gen 5 slots, with the Q-Release button—an awesome addition for easily popping in/out GPUs. This is important for content creators who need to power their one GPU—or even two GPUs. (Yes, that's a thing for workstations!) You'll be able to put in an add-in PCIe card in the Gen 5 slot, too. You'll get 8x/8x speeds if you populate both, which should be enough for most use cases. 
Storage: Content creators love storage, and you'll have that in abundance here. If the eight SATA ports are too "legacy" for your liking, you'll be pleased to know of the four onboard NVMe slots. These are PCIe Gen 4, but that's more than enough speed for most modern drives. (PCIe Gen 5 drives are still not here to saturate these ports.) 
Many AMD X670E motherboards do offer PCIe Gen 5 NVMe slots, but as of right now, that's not needed—so don't fret when you see PCIe Gen 4. 
USB ports: Content creators absolutely need USB ports—the faster, the better. Starting with Thunderbolt 4 (compatible with USB4), you'll get two of those ports here. At 40Gb/s, this is amazingly fast for file transfers. Adding to that, Thunderbolt has a large eco-system of peripherals such as external enclosures, hard drives, and even display-out for monitors. These are all highly valuable for creators. 
Standard USB ports are also abundant here, six on the rear in addition to the two Thunderbolt 4 ports. 
You can use the Thunderbolt 4 USB-C ports for displays, and you'll get an HDMI 2.1 port, as well—another great bonus.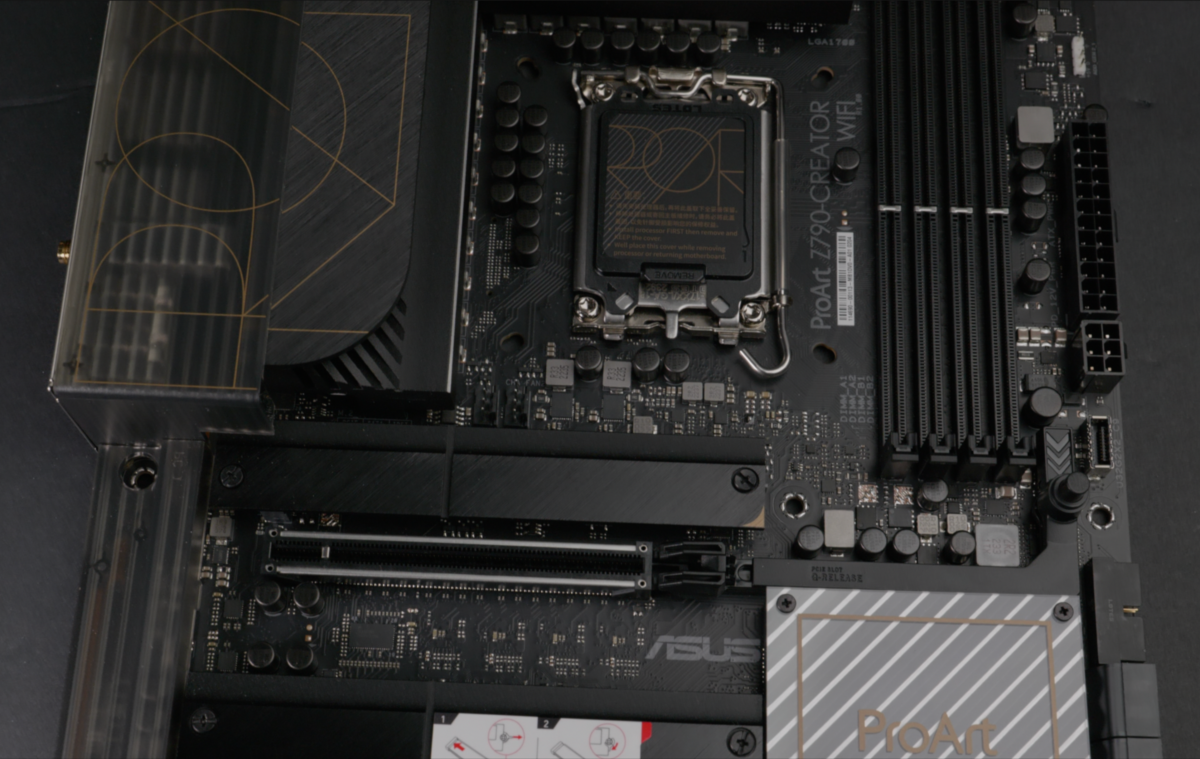 Thiago Trevisan
Networking: Continuing with the impressive features, 10GbE and 2.5GbE networking are present here. This is a rarity on gaming motherboards, as only the most expensive ones provide 10GbE—and even less with a second ethernet option. This is where you can see tremendous value for those content creators who need 10GbE for NAS backups and other high-usage networking—like sharing drives in an editing studio for example. 
Wi-Fi 6E is also included, rounding out a perfect complement of networking options that is a fantastic inclusion for the price.
Audio: Audio is competent here as well, with enough inputs on the rear for most casual use cases. (Five jacks, to be precise!) You'll get a good Realtek S1220a codec within what Asus calls "Crystal Sound 3"—plus good build quality on those components. Of course, professional audio users will still want to use external or add-in higher-grade audio components.
Other interesting features: Quality-of-life features are here too. Q-Latch for M.2 drives, and Q-Release for the PCIe GPU slots, both of which make for easier access for these components. An integrated I/O shield also improves the build experience. 
BIOS Flashback and Q-LED make diagnosing issues easier, even though users of this motherboard are less likely to manually overclock. (But you still can!) 
The unboxing experience is simple but provides the necessary accessories you need to get going. SATA cables, display adapter cables, the usual. 
Overall, the board offers a robust feature set that greatly benefits content creators and workstation users.
Asus ProArt Z790-Creator WiFi: Design
Thiago Trevisan
The Asus ProArt Z790-Creator WiFi does not have any flashy RGB, but you still do get Aura Sync RGB headers. It does have plenty of "class" and a really unique design. With a wonderful subdued color scheme, and some minor gold accents running throughout, it looks purposeful.
Unique aspects of the design include the transparent I/O shield enclosure and lower-right "ProArt" branding. Both look great, but do keep in mind that this motherboard feels less "robust" in the hands than something like an Asus ROG Hero for example. Those "gamer" motherboards typically feel a lot heavier due to the "armor" and other aesthetic/cooling pieces. Build quality is still great here, however—but we can see some cost savings were needed to include the robust feature set. (And that's great—we'd rather see the features!)
The design is also functional, with M.2 drive slots sporting cooling thermal pads underneath. Design innovations such as the Q-Latch and Q-Release are also fantastic, providing a great ease-of-use when adding M.2 drives and PCIe cards.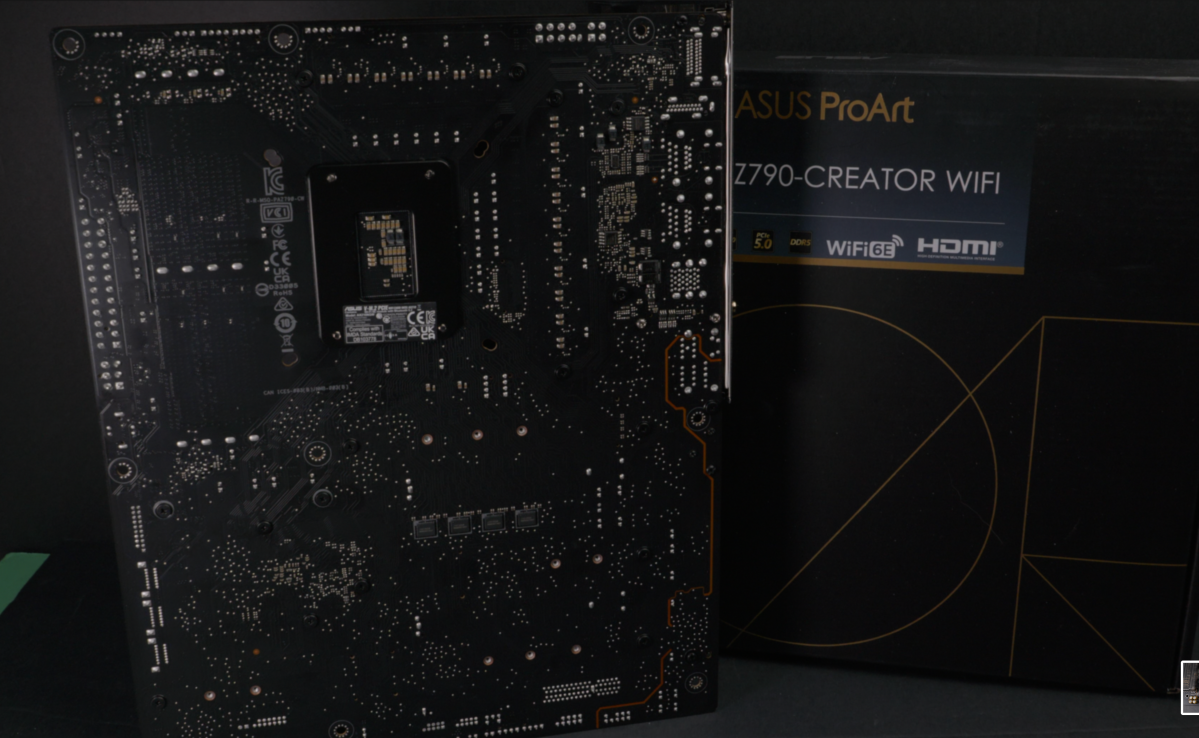 Thiago Trevisan
The rear of the integrated I/O shield (another great design bonus!) is clearly labeled and matches the rest of the motherboard aesthetic. The back is standard, as expected—you'd have to head over to ROG or higher-end gaming motherboards to find a more armored backplate.
Overall, the minimalist color tones are still very interesting when you zoom in and take a closer look. No need for RGB effects here; but still elegant-looking in any build.
Asus ProArt Z790-Creator WiFi: Performance, software, and BIOS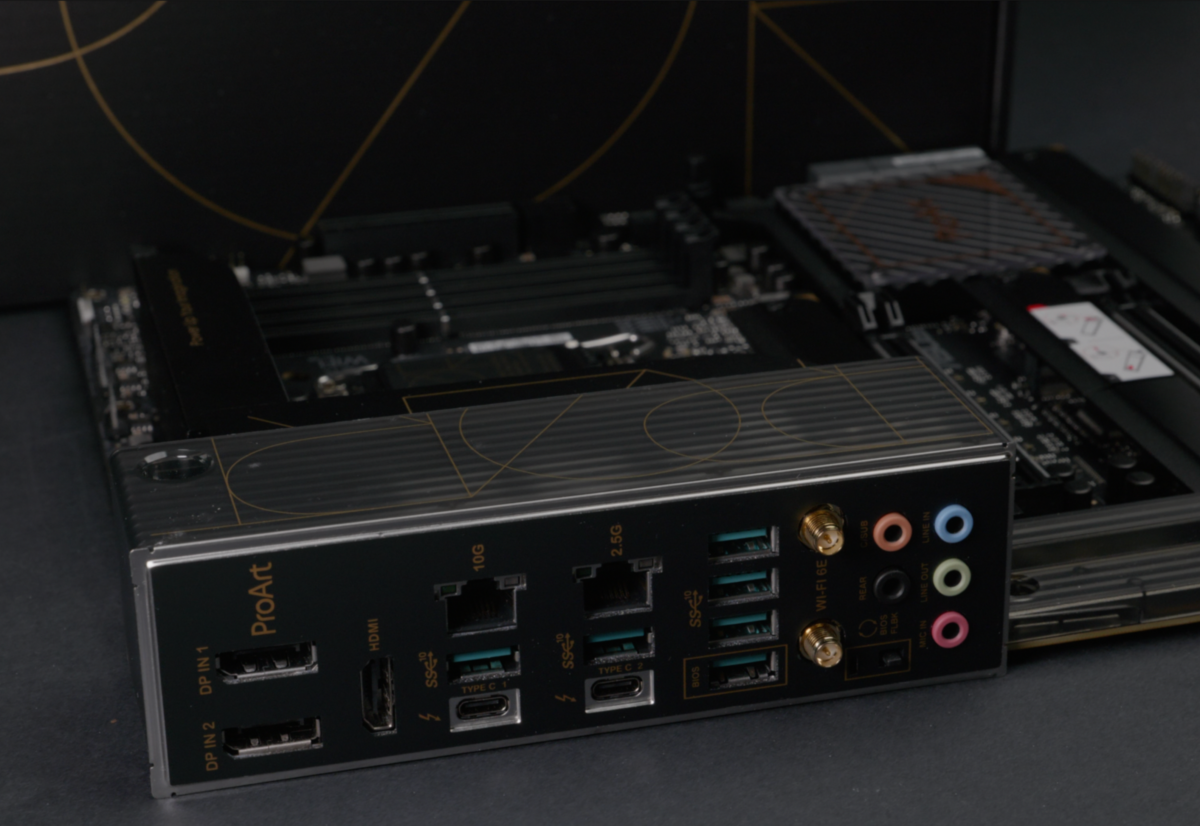 Thiago Trevisan
The Asus ProArt Z790-Creator WiFi is not marketed as an overclocking monster. With 16+1 dual power stages, it will handle even the mighty Intel i9 13900K with ease—and overclock, too. 
The rest of the Intel 12th- and 13th-gen family will also fit right in, with competent VRM heatsinks and good-quality PCB. 
DDR5 support gives you access to the latest speed improvements over DDR4. With prices getting better, it's starting to be a very appealing option. Workstation users who can utilize fast RAM will be happy, and only those needing more than 128GB will need higher-end platforms like Xeon or Threadripper.
The performance chops don't stop there, with PCIe Gen 5 and Gen 4 throughout. While the two PCIe 16x slots are both Gen 5, the third one is Gen 4. You'll also get Gen 4 performance out of the four onboard NVMe slots—which is more than enough as Gen 5 is not quiet here yet. 
Speed continues where it matters: 40Gb/s dual Thunderbolt 4 ports are the pinnacle of current transfer/USB technology. This will make content creators very happy who rely on fast transfer rates and the versatility of Thunderbolt.  
The 10GbE is some of the fastest networking you'll find anywhere, and it accompanies a 2.5GbE secondary port. This type of performance is exactly what workstation users demand, and here it's available in spades. Wi-Fi 6E and Bluetooth 5.3 are also some of the fastest standards currently available.
While you may not need gaming-level overclocking, the Asus BIOS is excellent and gives you tons of options. You can manually tinker with your unlocked Intel CPU, or even play with the DDR5 RAM. Easy to use and intuitive, it's an enthusiast favorite. Sure, it's not a ROG Extreme motherboard, but it has the basics to get you rolling. 
If you don't intend to tinker, the minimum needed is just to set the XMP profile for your RAM. You can also set Ai automatic overclocking in the BIOS if you wish to squeeze some more performance out of your CPU. Keep in mind this may be adaptive and depend on your cooling solution—these newer higher-end Intel CPUs such as the 13900K can run hot! 
Leaving the BIOS, you'll still get some good system integration on the software side with the Asus ProArt Creator Hub. Like Asus Armory Crate on the gaming side, this software will allow you to customize fan profiles, monitor hardware, and tons of other options.
Should you buy the Asus ProArt Z790-Creator WiFi?
Thiago Trevisan
The $469 MSRP is targeted at content creators making this a highly attractive option. In a sea of gaming-centric motherboards with options some users may not need, it's refreshing to see a fine-tuned motherboard that has a bevy of highly useful specs. 
You can also game on it quite well, too. It has the same DDR5 and support for the fastest Intel gaming CPUs that the best gaming motherboards offer. You'll just have a little bit less onboard RGB! 
Thunderbolt 4 has tons of speed and utility, and you'll only find it on the most expensive gaming motherboards. Likewise with 10GbE networking—these two options will appeal to the content creators for sure. You'd need an "extreme" level gaming motherboard just to have these options at a much higher price! 
The other included features are also highly useful—in addition to the latest-generation DDR5 and PCIe Gen 5 technology, it's got a generous four NVMe slots, and plenty of SATA ports. 
You may even have some gamers who think this is a great buy—and we'd agree—with tons of functionality built in for the price. Content creators will of course be very pleased, and have the tools needed to create!