Tech News
Asus ROG Swift OLED PG27AQDM review: Perfect for gamers
At a glance
Expert's Rating
Pros
Excellent contrast ratio
Superb motion clarity 
Good luminance stability in SDR
Extensive menu options
Cons
Out-of-box color performance isn't great
Limited connectivity and no USB-C
HDR brightness falls well behind Mini-LED
Our Verdict
The Asus ROG Strix PG27AQDM stumbles in some tests, but gamers will love its superb motion clarity and top-notch contrast.
Price When Reviewed
$999.99
Best Prices Today: Asus ROG Swift OLED PG27AQDM
$999.99
2023 is the year of the OLED monitor, unleashing numerous monitors into a space that once included just a couple viable options. Asus' ROG Swift OLED PG27AQDM is among the fresh options, delivering a 240Hz refresh rate, high build quality, and excellent image quality at $1,000. However, a few shortcomings limit its appeal to gamers. 
Further reading: See our roundup of the best gaming monitors to learn about competing products.
What are the Asus ROG Swift OLED PG27AQDM specs?
The Asus ROG Swift OLED PG27AQDM's most notable feature is its most obvious: the 27-inch (well, 26.5-inch) OLED panel. This is the second-most popular monitor size on the market today, and it's suitable for use as a primary monitor on any desk. QD-OLED ultrawides are great, but a 27-inch widescreen is a far more practical choice when space is tight.
Display size: 26.5-inch widescreen
Native resolution: 2,560 x 1,440
Panel type: OLED
Refresh rate: 240Hz
Adaptive-Sync: Yes, FreeSync and G-Sync Compatible
HDR: HDR 10
Ports: 2x HDMI 2.0, 1x DisplayPort 1.4, 2x USB-A, 1x 3.5mm audio
Stand adjustment: Height, swivel, tilt, pivot
VESA mount: Yes, 100mm x 100mm
Speakers: None
Price: $999
Asus asks almost $1,000, which, though expensive, is in line with other OLED monitors such as the LG Ultragear 27GR95QE-B and Acer X27U. Demand seems to be strong, so I doubt prices will dip until fall of 2023.
Asus ROG Swift OLED PG27AQDM design 
The Asus ROG Swift OLED PG27AQDM is immediately identifiable as part of the Republic of Gamers brand, for better or worse. The brand's sharp lines and muscular patterns do little for me, personally. Still, I'll give Asus credit for building a distinctive presence, and I'm sure it will appeal to the brand's fans.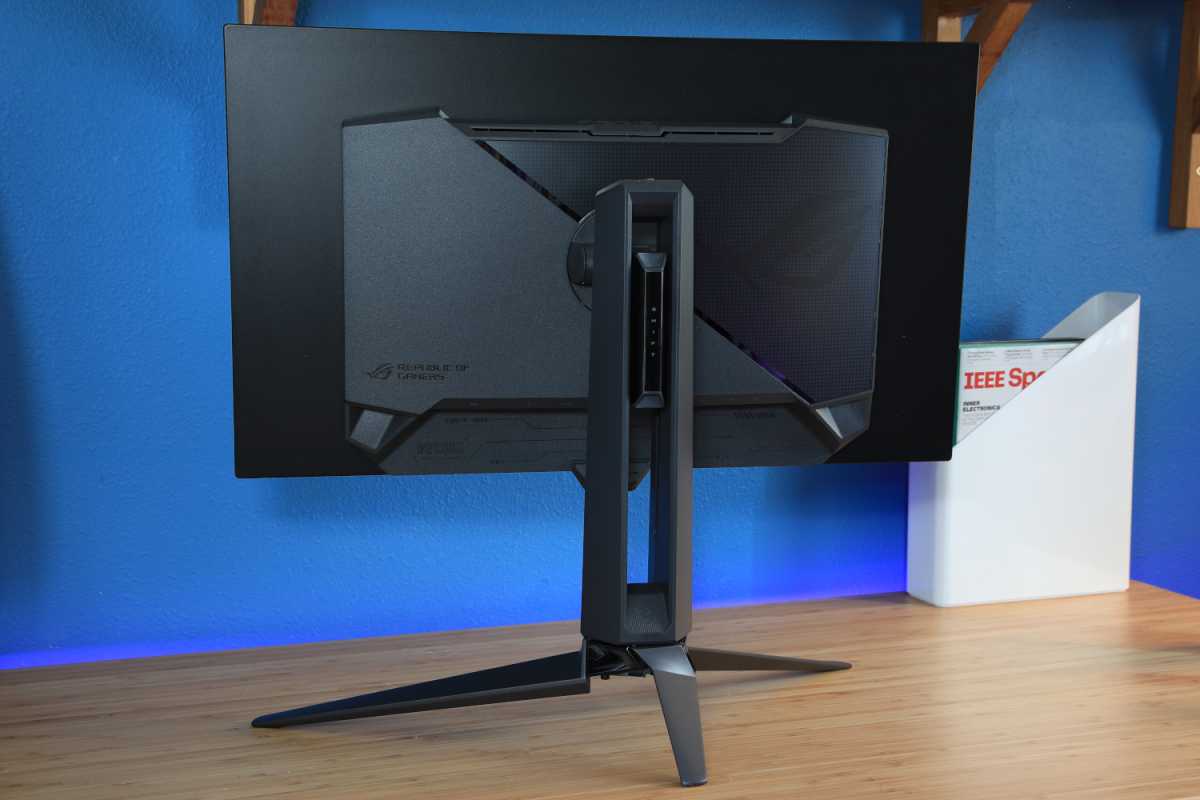 Matt Smith
Asus highlights the thin OLED panel by consolidating the monitor's electronics into a box that takes up about half the rear panel. The rest is ultra-thin metal and glass. It's a striking profile that telegraphs the OLED panel's presence to PC geeks in the know. 
A broad, angular stand keeps the PG27AQDM planted on your desk. It's a handsome and beefy unit with built-in customizable LED lighting. I found the lights too bright for my taste—fortunately, they can be turned off if desired. The stand takes up significant desk space and might interfere with your established desk layout. An included adapter provides a 100x100mm VESA mount for use with third-party monitor stands and arms. 
Asus ROG Swift OLED PG27AQDM features and menus 
The ROG Swift OLED PG27AQDM's connectivity is a bit disappointing. It has just two HDMI 2.0 ports and one DisplayPort 1.4. The HDMI ports are limited to 120Hz. That's not a problem when the monitor is used with an Xbox Series X/S or PlayStation 5 game console, as they can only output up to 120Hz. However, gamers and creators with multiple PCs should keep this limitation in mind.
USB connectivity is lacking as well. The monitor has just two USB-A downstream ports driven by a USB-B upstream port. USB-C is not available. This isn't a deal breaker but, given the monitor's price, Asus should've gone the extra mile and tossed in USB-C. 
Matt Smith
While connectivity is limited, Asus goes all-in on the menu system. It offers a wide variety of color modes, including an sRGB mode, and color customization options such as color temperature, gamma, and six-axis color calibration. There's also a range of gamer-centric features such as a black stablizer, which increases the brightness of dark areas to reveal hidden foes, and an on-screen crosshair. 
Asus tosses in two extremely handy features that I've yet to see on a competitive monitor. The first is a "uniform brightness" setting that can be used to override the standard brightness setting in SDR content. It lowers the panel's overall brightness but keeps luminance stable. Most OLED monitors have problems maintaining a stable level of brightness when bright objects appear on-screen, but this setting eliminates the problem.
There's also an HDR brightness override that allows user brightness adjustments in HDR mode. Readers who've yet to buy an HDR monitor might be surprised to hear this isn't possible on most HDR monitors. Brightness is often controlled by the device and content rather than the monitor, which can lead to undesirable swings in brightness. The HDR brightness override can eliminate this issue, though at the expense of image quality.
What about speakers? There aren't any. This isn't a surprise, despite the price: If anything, high-end monitors are less likely to include speakers than less expensive models. You'll have to use a headset or standalone desktop speakers. 
Asus ROG Swift OLED PG27AQDM SDR image quality
The Asus ROG Swift OLED PG27AQDM's OLED panel, which is provided by LG, has all the makings of an excellent SDR monitor. But it's up against stiff competition. QD-OLED widescreen monitors are available from multiple brands and Mini-LED monitors are going mainstream. Can Asus fend off the alternatives? 
Matt Smith
Our first test, brightness, is a predictable weak spot for the PG27AQDM. OLED monitors have trouble reaching and maintaining high levels of brightness. LED and Mini-LED monitors, by contrast, can blast brightness all day long with no issue. 
With that said, however, the PG27AQDM's peak SDR brightness of 291 nits is perfectly usable in most situations. I typically used the monitor at less than half its maximum brightness in my office. The Asus also notches a win over the Alienware AW3423DWF, which has Samsung's QD-OLED panel.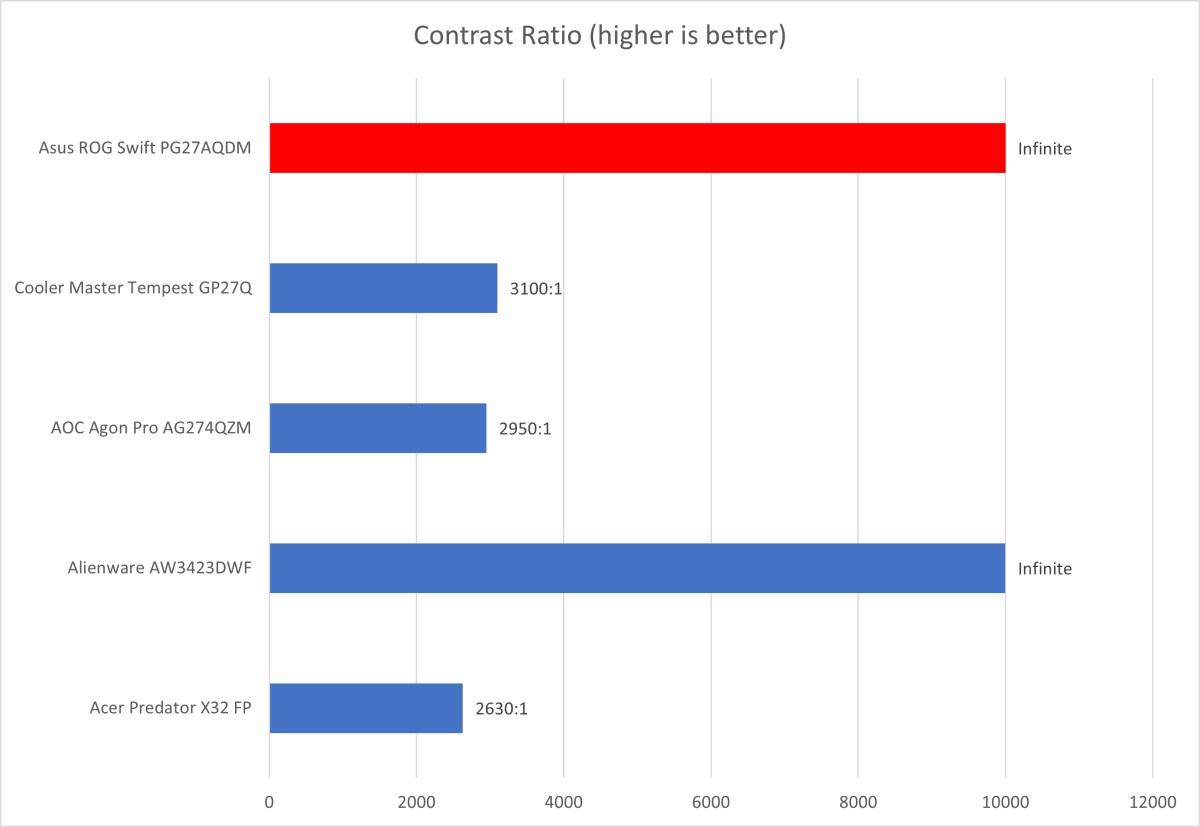 Matt Smith
Contrast, on the other hand, is a win for the PG27AQDM. The monitor can achieve perfect dark, which means it emits no zero in dark scenes. This hugely improves the monitor's ability to display dark scenes with convincing detail, eliminates the hazy "IPS glow" that plagues most computer monitors sold in the past 20 years, and provides an outstanding sense of depth and dimension in bright content. High-quality content takes on a rich, three-dimensional quality you won't find on most monitors.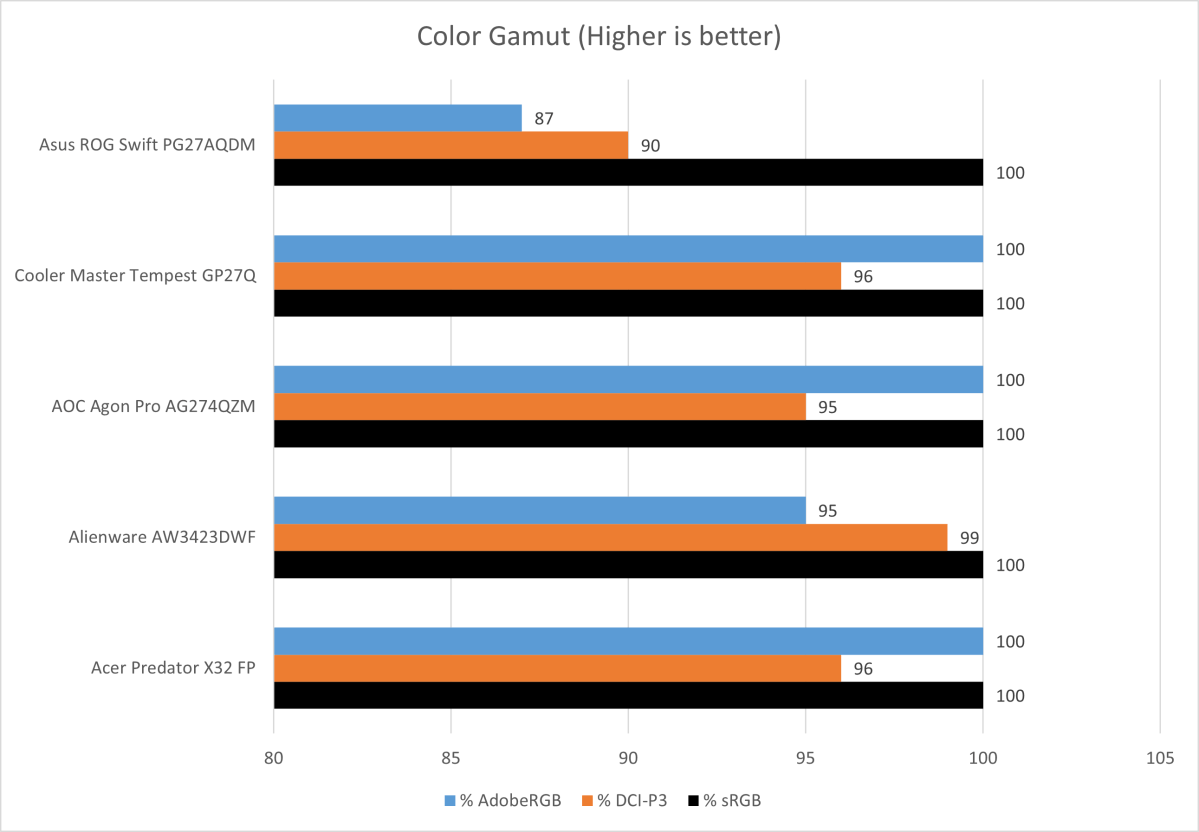 Matt Smith
Asus falls behind the pack in color gamut, providing only 90 percent of DCI-P3 and 87 percent of AdobeRGB. That's not a bad showing, but today's best monitors can deliver an incredible color gamut straight out of the box. Many exceed 100 percent of AdobeRGB and render almost the entire DCI-P3 gamut. 
Whether this matters depends on your use. Gamers shouldn't be concerned, as the range of color offered here is more than enough to provide a lifelike and detailed image in modern titles. Creators, however, should be wary. The PG27AQDM will still work in most situations but won't be able to display as broad a range of color as its competitors. That could be an issue if you're trying to color grade video or edit a photograph. 
Matt Smith
Asus' color woes continue in color accuracy, where the PG27AQDM turned in a much wider color error than its peers. This level of color accuracy is enough to be noticeable in some situations. I felt that the monitor had issues with skin tones of individuals with lighter skin hues, which looked a bit dull or sickly. These problems are still minor enough that I doubt most users would notice them, but let's not forget: This is a $1,000 monitor. It's surprising to see Asus ship out a flagship OLED monitor with underwhelming color accuracy.
I noticed lackluster results in color temperature and gamma, as well. The monitor turned in an out-of-the-box color temperature of 7100K, which is a bit cooler and more clinical than the target of 6500K. The gamma curve was 2.0 off a target of 2.2, which means content appeared a bit brighter than it should. I noticed the color temperature issue most, as there was a distinct blue push in bright white objects and scenes, such as a snow-capped mountain. 
Sharpness is disappointing despite the monitor's 2560×1440 resolution. The PG27AQDM, like most OLED monitors, uses a subpixel layout that differs from RGB. That causes sub-pixel presentation issues that appear as color fringing. When I type the number 1,000 in 12-point font in Microsoft Excel for example, I notice what appears to be a slight blue and yellow hue spanning the gap between the zeros. I think it's a tad less noticeable than with QD-OLED monitors, such as the Alienware AW3423DWF, but it's still an issue.
The PG27AQDM's SDR image quality results are mixed, so I'd like to put my finger on the scale. Numbers aside, it's a beautiful monitor in real-world gameplay and also looks fine in general use. The monitor's outstanding contrast ratio is stunning in dark, gritty games like Diablo 2: Resurrected, but there's still enough brightness and a wide enough color gamut to provide a vivid look to titles such as Valorant or Borderlands 3. 
Asus ROG Swift OLED PG27AQDM HDR image quality
The Asus ROG Swift OLED PG27AQDM is capable of HDR, though, strangely, it doesn't boast a VESA DisplayHDR 400 True Black certification. Overall HDR performance is good but suffers the pitfalls typical of the current generation of OLED monitors. 
I measured a maximum full-screen, sustained HDR brightness of just 186 nits. The reason this is lower than SDR is due to a difference in the test images used and the length of time displayed. I measured a maximum HDR brightness of up to 611 nits in a 10 percent window, meaning that only 10 percent of the display was lit (the rest was dark). 
A brightness of 611 nits within a 10 percent window is a good result for an OLED monitor. I measured a maximum of 453 nits from the Alienware AW3423DWF and 509 nits from the Corsair Xeneon Flex. However, this remains far behind Mini-LED monitors such as the AOC Agon Pro AG274QZM, which can reach and sustain nearly 1,000 nits. Mediocre brightness means you won't see the full range of luminance detail that's often available in HDR content. Bright lights, flames, or glare will appear a bit washed-out and uniform, though some additional detail is available compared to SDR. 
This is balanced by the monitor's excellent contrast. The ability to deliver a perfect black level helps amplify the brightness that's on tap and increases the perceived vibrance and punch of the image. OLED also avoids the "blooming" problem found on Mini-LED monitors, which can appear as a halo surrounding small, bright details. OLED avoids this problem because each pixel is lit independently of those around it. 
The PG27AQDM has issues in the Windows desktop environment. This is often true of HDR monitors, but particularly so here. Colors are noticeably off-kilter and luminance detail is lacking. Asus has a firmware update to improve color in HDR, and it did provide some improvement, but there's room for Asus to do better. At the moment, I recommend leaving HDR off in Windows' settings and selectively turning it on within apps when possible. 
Although the PG27AQDM's HDR performance isn't stellar, it provides an advantage over SDR and is a tad better than the QD-OLED monitors I've tested, including the Alienware AW3423DWF and Corsair Xeneon Flex. Mini-LED monitors are superior for bright HDR content and better for HDR overall, and I recommend going Mini-LED if HDR is your priority. Still, the PG27AQDM holds its own in darker games and movies. 
Asus ROG Swift OLED PG27AQDM motion performance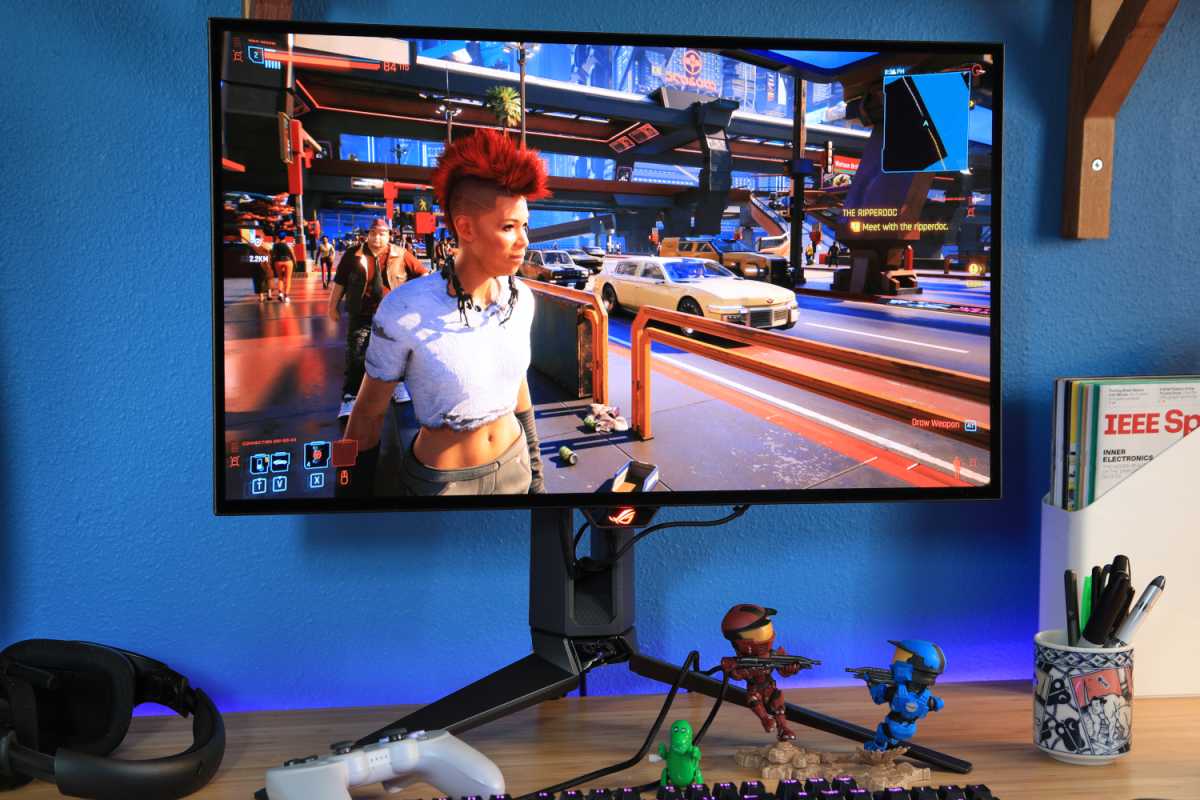 Matt Smith
The Asus ROG Swift OLED PG27AQDM is a 240Hz monitor (though only over DisplayPort) and offers support for Adaptive Sync, AMD FreeSync, and Nvidia G-Sync. It provides smooth, stutter-free motion in a wide range of situations and with most graphics hardware currently on the market. A handful of 360Hz and 500Hz monitors are now available, such as the Acer XB273U F and Alienware AW2524H, and they feel a tad smoother in real-world use. Still, the PG27AQDM is a real treat to see in motion.
It helps that the PG27AQDM, like most OLED monitors, has an extremely fast pixel response time (Asus quotes .03 milliseconds). That means pixels can quickly transition between colors when needed, which reduces blur and provides excellent clarity. Fast-moving objects are well defined with nearly all details visible. Test images from League of Legends show that character silhouettes, names, and health bars are visible, though the individual tick marks within each health bar remain hard to make out. Motion clarity is better than QD-OLED monitors with a lower refresh rate, such as the Alienware AW3423DWF, and a tad better than a 240Hz IPS monitor, such as the Gigabyte M27Q-X. 
Low pixel-response times also improve motion clarity across a wide range of refresh rates, so motion continues to look rather crisp down to, and a bit below, 120Hz. This versatility is important because you won't see the full benefits provided by a high refresh rate if the game you are playing can't achieve a similar frame rate, and even high-end gaming PCs will struggle to play many titles at up to 240 frames per second. Fortunately, the PG27AQDM remains enjoyable even when frame rates take a dive towards the double-digits.  
Is the Asus ROG Swift OLED PG27AQDM worth it?
The Asus ROG Swift OLED PG27AQDM is a mixed bag of features and performance. It delivers an incredible contrast ratio, thin design, and impressive 240Hz refresh rate, all of which make it a drop-dead gorgeous option for gamers. Unfortunately, the monitor's lackluster brightness, mediocre color performance, and so-so sharpness won't be ideal for those in creative professions who require precise color. Asus also fails to offer useful extras such as USB-C. These downsides limit the monitor's appeal—but if you just want to kick back, relax, and enjoy a top-tier gaming experience, the PG27AQDM is a wonderful choice.