Tech News
Best budget monitors 2023: Screens that save you money
The best modern monitors deliver stunning image quality, but pricing can quickly skyrocket above $500 and, in some cases, beyond $1,000. That's a lot of money to spend on a 24-inch to 32-inch display.
Fortunately, shoppers on a more reasonable budget can find numerous options available for around $200 (or less). These affordable monitors can't match those that sell for five times the price, but the best budget monitors offer surprisingly great image quality that might leave you wondering why anyone would pay more.
Further reading: See our roundup of the best monitors for even more recommendations.
Acer K242HYL – Best budget monitor overall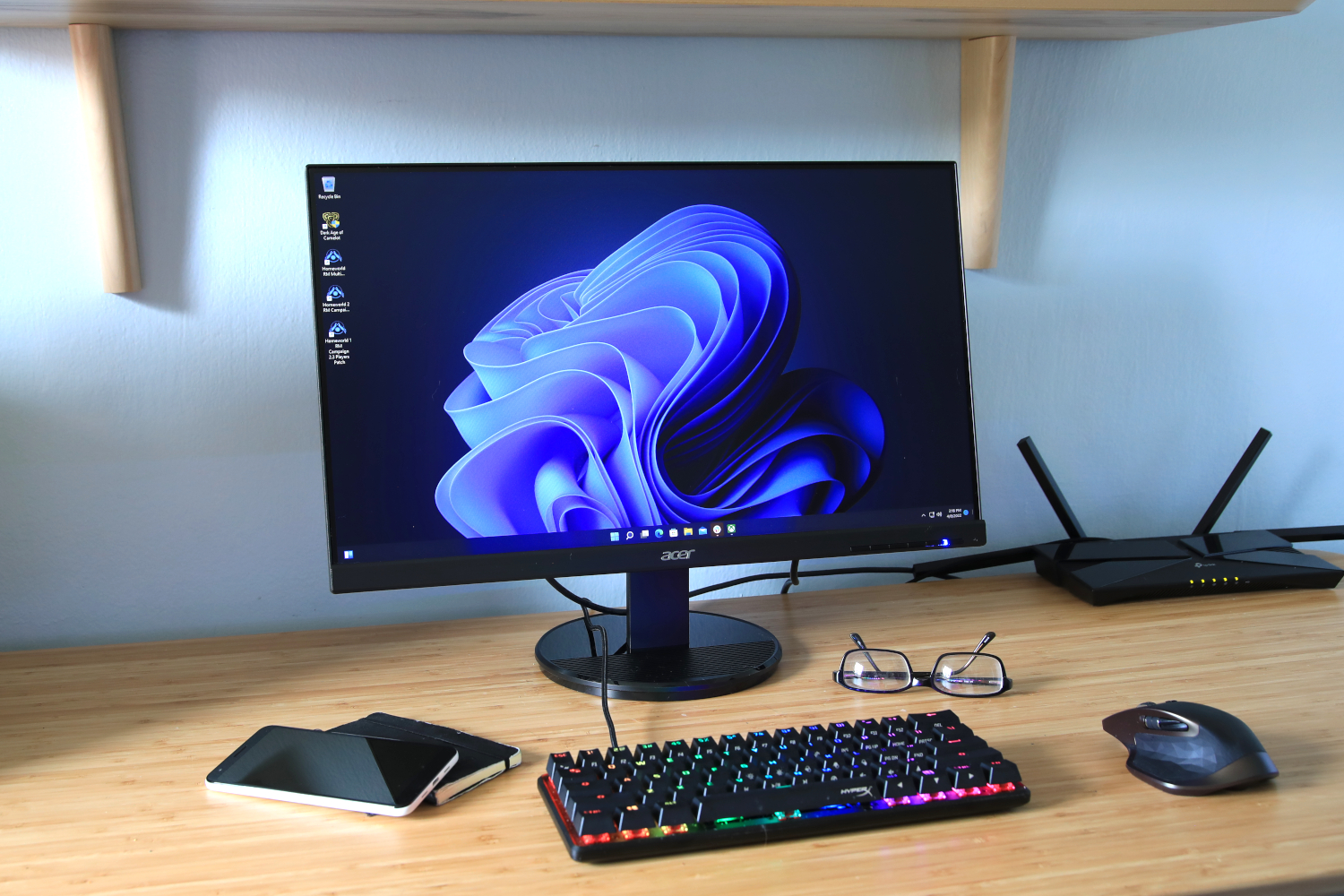 Pros
Attractive color accuracy and gamut 
Acceptable sharpness for a 1080p display 
Avoids motion clarity pitfalls  
Menu system is easy to use 
Cons
Barebones design 
No height adjustment on stand 
Only one HDMI, no DisplayPort 
Power LED is very bright 
Price When Reviewed:

$149
The Acer K242HYL is a reliable and attractive budget monitor that will fit the needs of most shoppers looking to buy a monitor for around $150.
It's a 24-inch, 1080p monitor with a refresh rate of up to 75Hz. The monitor's specifications are identical to alternatives near the same price, but the K242HYL's overall image quality is a notch above the pack. It provides a sharp, bright image with attractive and accurate color.
The monitor's 75Hz refresh rate is slightly smoother than the more typical refresh rate of 60Hz. Acer even throws in AMD FreeSync support, which can be used to sync the refresh rate with a connected AMD graphics solution. This will reduce stutter and screen tearing in 3D games.
Acer opts for a simple stand that only adjusts for tilt, which is typical for a budget monitor. The stand is reasonably tall and keeps the monitor planted on your desk. A 100x100mm VESA mount is included and can be used to attach a third-party monitor stand or arm if desired.
The monitor's design and build quality is excellent for the price. Our only serious complaint concerns connectivity, as the monitor has just one HDMI and one VGA. We'd prefer to see a second HDMI port or DisplayPort, as well.
Still, shoppers looking for a simple, no-fuss option should stop looking and buy the K242HYL. It won't disappoint.
Read our full
Acer K242HYL review
Arzopa A1 Gamut – Best budget portable monitor
Pros
Good build quality for the price
Bright, attractive display
Two USB-C inputs, plus mini-HDMI
All cables included
Cons
Stand only adjusts for tilt
Limited image quality adjustments
Mediocre contrast ratio
Price When Reviewed:

$189.99
The Arzopa A1 Gamut is a 15.6-inch 1080p portable monitor with attractive image quality, a svealt design, and practical features at an affordable price. The display's profile is slim with a slight bulge on the lower half, where the ports and internal electronics live. An included faux-leather cover protects the display when stowed and serves as a kickstand when in use.
Our testing found the A1 Gamut can deliver up to 297 nits of brightness, which is superb for a budget portable monitor. The monitor also has an attractive color gamut and good color accuracy. Contrast is a bit lacking, but no more so than other budget portable monitors. Sharpness is a highlight, as 1080p resolution looks crisp when packed into a 15.6-inch panel.
The monitor has two USB-C ports with DisplayPort Alternate Mode and one Mini-HDMI port, for a total of three video inputs. Both USB-C ports support Power Delivery and can power the portable monitor from a connected USB-C device or a USB-C power brick. All necessary cables and accessories are included.
The Arzopa A1 Gamut's official MSRP hovers around $170, but it's frequently found on sale for as little as $110. We highly recommend waiting for a price drop if it's not currently on sale.
Dell G2723H – Best budget gaming monitor
Pros
Attractive, sturdy design
Packs four USB ports
Great motion clarity
High maximum brightness
Cons
Contrast ratio could be better
Modest color performance 
Low pixel density
Price When Reviewed:

369.99
The Dell G2723H is a 27-inch 1080p gaming monitor with an impressive refresh rate of up to 280Hz. It looks great in motion, revealing detail in fast-moving objects and preserving clarity while quickly panning the camera in a 3D game. The monitor supports Nvidia G-Sync Compatible and AMD FreeSync Premium for smooth, tear-free gameplay.
Image quality is great for the price. The Dell G2723H looks bright and vivid thanks to its relatively wide color gamut and excellent color accuracy. Contrast is a bit low for a gaming monitor but, at this price, it's typical for the category. The monitor's native resolution of 1920×1080 is a good fit for the 280Hz refresh rate. 
Dell's design is a highlight. The G2723H has a simple but attractive look that stands out from office monitors but stops short of garish. It's well built, too, with high-quality materials and a compact yet sturdy height-adjustable stand. The monitor offers multiple connectivity options including two HDMI 2.0 inputs and one DisplayPort 1.4.
The Dell G2723H debuted at an MSRP of $369.99, but Dell routinely slashes the price to as little as $199.99. That's an outrageously good deal. Though designed for gamers, the Dell G2723H is a solid pick for anyone who wants enhanced image quality on a tight budget.
Read our full
Dell G2723H review
What to look for in a budget monitor
Budget monitors typically involve some sacrifice—costs are cut from somewhere, after all—so you want to know what features matter most for the money.
Image quality
Budget monitors have a reputation for lackluster image quality. Recent models buck that trend. While some sub-par budget models remain on the market, all the monitors we recommend in this guide nail the fundamentals. They offer a bright, vivid, and colorful image that's enjoyable and comfortable to view even in a brightly lit room.
Resolution
Nearly all budget monitors provide a native resolution of 1920×1080, also known as 1080p. You may find 1440p or 4K monitors available at similar pricing, but they often sacrifice other aspects of image quality. 1080p is popular for a reason: It's attractive, versatile, and good value for money.
Refresh rate and adaptive sync
Most budget monitors have a refresh rate of 60Hz to 75Hz. Only gaming monitors reach a higher refresh rate, and gamers are the only group that needs to pay attention to this specification. Gamers will want to aim for 144Hz or better. Everyone else will be happy with a 60Hz display.
Adaptive Sync is a related feature that can sync the output of a graphics solution or video card with the monitor. This eliminates screen tear and micro-stuttering. It's a must-have feature for gamers and can be ignored by everyone else. 
Connectivity
Budget monitors have simple connectivity with just a handful of video inputs. You'll want to purchase a monitor that has a video input compatible with your laptop or desktop's video output. Most computers support HDMI, but a few desktops and laptops only support DisplayPort. PCs that are more than 10 years old may only support VGA and DVI, and some budget monitors still support these options. Our top pick, the Acer K242HYL, supports HDMI and VGA.
Stand and ergonomics
Inexpensive monitors usually skimp on ergonomics and offer a simple, integrated stand that only adjusts for tilt. That's fine for web surfing and general productivity, but a height adjustable stand will be preferable if you want a monitor for your home office or plan to use multiple monitors side-by-side.
At the least, a budget monitor should provide a 100x100mm VESA mount. This standard mount size can be used with a huge variety of third-party stands and arms—the options are nearly endless. Portable monitors are the exception and rarely include support for a VESA mount.
How we test monitors
PCWorld's monitor buying guides are based on the knowledge and skills of our freelance and staff contributors, who together possess decades of experience in the field.
While we rely on our personal impressions to guide coverage, we also thoroughly test each monitor with a SpyderXElite color calibration tool for an in-depth analysis. This tool lets us objectively evaluate various monitor attributes, such as brightness, contrast, color gamut, color accuracy, luminance and color uniformity, gamma, and more.
Every monitor we recommend in this guide was thoroughly reviewed with personal, hands-on testing by a PCWorld contributor. This helps us identify problems in features and build quality that could otherwise be overlooked.