Tech News
Discord is slowing down Nvidia graphics cards. Here's how to fix it
Discord has become the go-to chat and calling app for PC gamers over the last few years. If you're playing multiplayer games with your buds, you probably have it installed on your PC, and many people have it configured to start when their computer boots. That's why its latest bug is irksome: A recent Discord update is making Nvidia GeForce graphics cards run slower. Fortunately, there's a workaround available.
"After a recent update to the Discord app, users may notice that the graphics card memory clocks will not reach full speeds when launching a game," Nvidia said in a new support page. Reddit users report the memory clocks drop by 200MHz with Discord open, which shouldn't practically affect gaming performance much, but is nonetheless clearly not ideal.
Since Nvidia didn't mention specifically affected models, we assume that all GeForce graphics cards could be affected. The company is working on rolling out a proper fix to all users at a later date, but if you want to stop the memory nerf right now, Nvidia explained how to do so. It's complicated, but also fairly simple. Here are the steps, quoted verbatim from Nvidia's support page:
Click here to download the NVIDIA program GeForce 3D Profile Manager. 
Open the GeForce 3D Profile Manager.    
Click on the button Export SLI Profiles. 
A file explorer window will pop up. Select a location to export and save the NVIDIA Profiles text file.  
Open the text file saved in step 4 using Notepad (or any program that does not automatically apply formatting). 
Perform a search for the section "Discord". Add a new line and type the following text as shown in the screenshot below: Setting ID_0x50166c5e = 0x00000000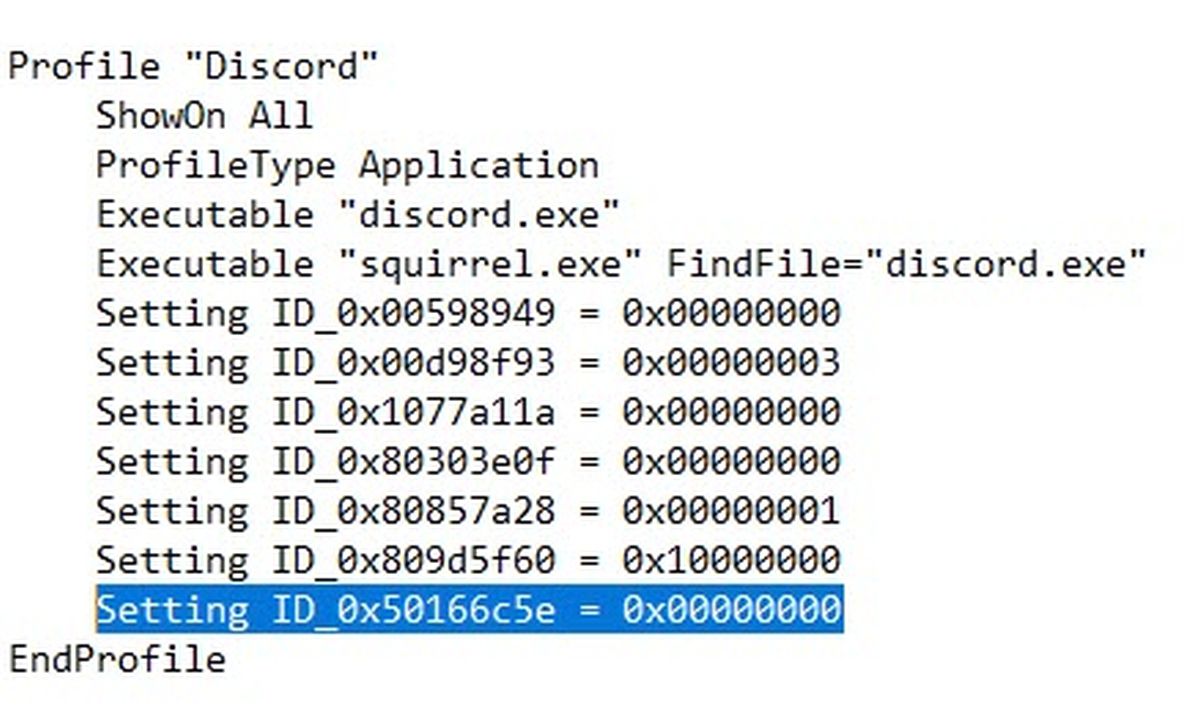 Nvidia
Save the edited NVIDIA Profiles as a txt file.  
Go back to the GeForce 3D Profile Manager and click on the Import SLI Profiles button.     
A file explorer window will appear. Select the updated "NVIDIA Profiles.txt" file and then click on the Open button.   
Once completed, you may close the GeForce 3D Profile Manager application.
After that, you can go back to running Discord without worrying about whether it's holding your Nvidia graphics card back. Happy gaming!