Tech News
I switched from Photoshop to Canva and I don't regret one second of it
Before I begin, I should preface this article with a disclaimer: I'm not out here trying to shade Adobe Photoshop or its fans (I'm speaking directly to my colleague Michael Crider here). Photoshop is a wonderful graphic design tool for many folks. That said, I prefer to use Canva, a free-to-use program that's meant to be used in a web browser. It's definitely more straightforward and user-friendly than Photoshop. I like software that's intuitive and convenient, and that's exactly what Canva is. From the drag-and-drop interface to the easy-to-use editing tools, I use this program every single day for work, especially when I'm resizing images for the PCWorld site.
Looking for more Photoshop alternatives? Check out these free graphic design programs for Windows.
No training or experience required
Photoshop is designed for complex image editing and doesn't offer you ready-to-use templates as well as graphic elements. It's a mighty piece of software that takes a good amount of time and patience to learn given all the features and functionality it offers. Canva, on the other hand, requires no training or experience to use. In fact, when I first made a Canva account back in 2020, I jumped right in and learned the various functions on the fly. The tools are clearly labeled and easy to comprehend.
As you can see in the screenshot of Canva below, you can do all kinds of things to your image, from adding text and graphics to creating collages and more. Me? I decided to load up a goofy picture of my greyhound with a bunch of animated dogs because why not. The interface is straightforward and it's easy to remove your mistakes thanks to the left arrow button on the bluish bar above your image. Canva even offers templates for social media posts, presentations, flyers, and more. The possibilities are endless…almost.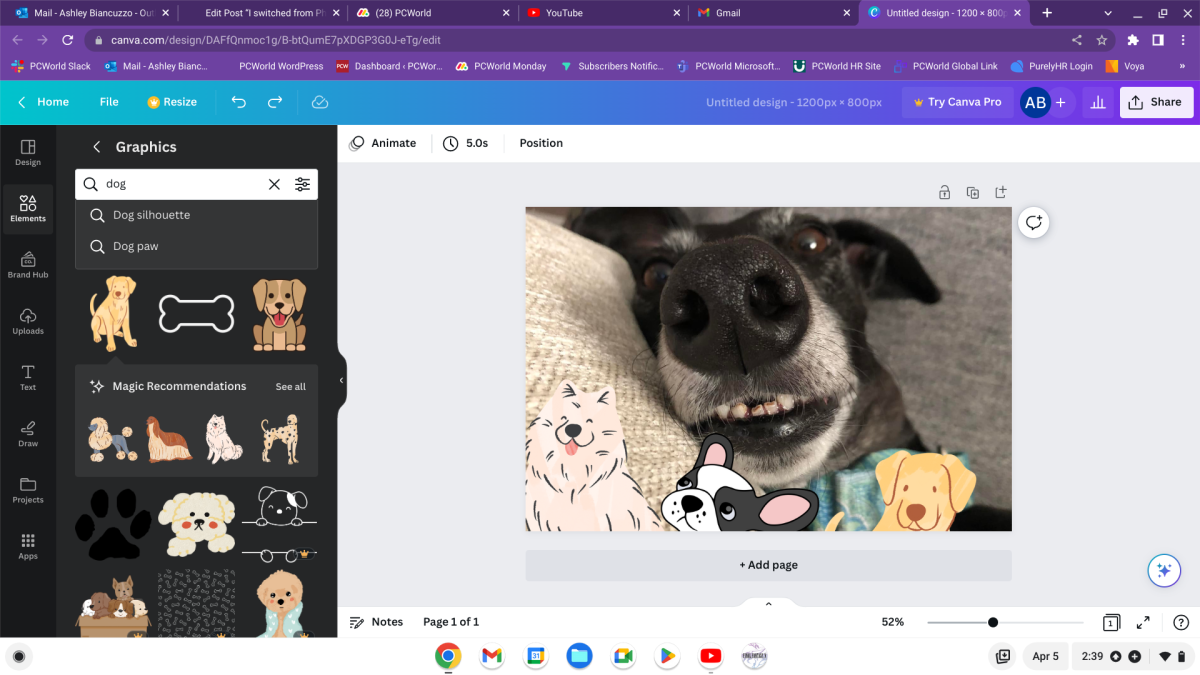 IDG / Ashley Biancuzzo
It's simpler than Photoshop
With Canva, you're stuck with basic editing and adjustment tools. You can't do things like brighten up an image or edit a selected part. You definitely get more customization options with Photoshop. However, that's not necessarily a bad thing. I'm a writer and editor by profession, so I don't need the complex editing tools that Photoshop offers. My day-to-day consists of writing, editing, and resizing images. Occasionally, if I'm feeling particularly feisty, I may add a weird graphic or two to the images I'm resizing. Other than that, I don't need many tools or features to get the job done. Just the barebones for me, thanks. Most people will probably find it more than capable as well.
You don't need a powerful computer to use it
Photoshop is a resource-heavy program that requires the hardware of a relatively powerful computer. According to Adobe, the recommended system requirements for a Windows machine are as follows: an Intel or AMD CPU, 16GB of RAM, a 1080p display, a 50GB hard drive, and a recent graphics card—and the more powerful, the better. If you're a photographer, you may want a higher resolution display for those smaller details and a bigger SSD for all of those files. That's not exactly a cheap purchase.
Fortunately, Canva doesn't require a powerful machine to use because it's web-based. All you need is a solid Wi-Fi connection and you're in. I regularly use Canva on my Chromebook, which isn't very powerful at all, and I've experienced hardly any problems with that.
Canva's free to use
Photoshop alone costs $250 a year, and that's not even counting the additional costs of other Adobe apps. That said, Photoshop Elements is a one-time purchase of $99.99, if you're so inclined. I've only ever used the free version of Canva and I've got no qualms with it. Like I said earlier, the interface is intuitive and it has all the basic image editing tools I need for work. The free version includes 5GB of cloud storage, one million free photos and graphics, a drag-and-drop editor, and more. That's more than enough for me.
If you're curious and want to check out Canva's subscription services, the Pro model with additional capabilities costs $119.99 a year. It's designed for one person to use and it's a better price than traditional Photoshop. This model bumps up the cloud storage to 1TB (from 5GB), offers 24/7 customer support, unlocks a ton of new professional-focused features, and so on. Canva also has a top-tier subscription that costs $149.90 a year. It's designed for multiple people to use and it's more work-focused in the sense that it focuses on collaboration between teams.