Tech News
Samsung reveals Galaxy Book3 laptops: Beauty meets beast
Samsung's new Galaxy Book3 Ultra is the most powerful laptop Samsung has ever unveiled, and addresses a content-creation market that the company hasn't broached before. But here's the really interesting news: You'll find one of the Ultra's most attractive features—a stunning 3K, 120Hz, OLED display—on both the cheaper Galaxy Book3 Pro and Galaxy Book3 Pro 360.
For years, Samsung's Galaxy Book laptops have typically been synonymous with three words: thin, light, and OLED. But with more and more manufacturers deploying OLED screens in their laptops, Samsung is now leaning harder into its own OLED bona fides and thus we have the Galaxy Book3 Ultra, Pro, and 360 laptops. All feature a "3K" OLED display, along with upgrades both in picture quality and performance.
We had a chance to go hands-on with all three machines in advance of their launch and our first impressions are that they live up to the hype.
Samsung will ship the 16-inch Galaxy Book3 Ultra for between $2,199 and $2,799 on Feb. 24. The 16-inch Galaxy Book3 Pro 360 goes for $1,899 and ships on Feb. 17. Samsung's most affordable versions will be 14- and 16-inch Galaxy Book3 Pro models, selling for $1,299 and $1,399 on Feb. 17. All of the new Book3s laptops earn Intel's Evo premium notebook badge in case you're wondering.
Beautiful OLEDs, top to bottom
While the Galaxy Book3 Ultra stands out as the flagship of the group, it's Samsung's beautiful new OLED display that really sells all three laptops. OLED displays trump more pedestrian LCD displays by offering richer, more spectacular colors, along with absolute blacks that appear, well, absolutely black. But Samsung's new display tech goes beyond what you may already know about OLED laptop screens.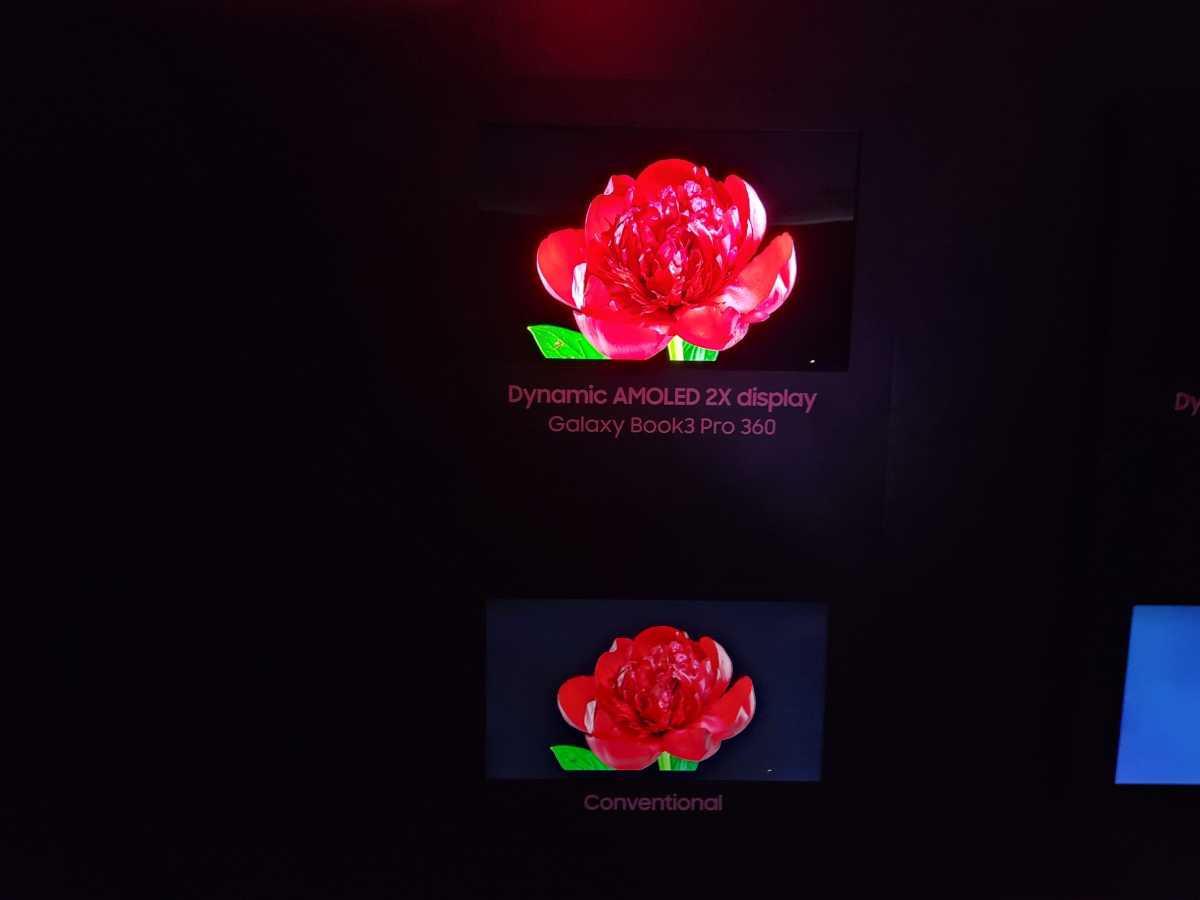 Mark Hachman / IDG
The tech that Samsung calls Dynamic AMOLED 2X supports 120 percent of the DCI-P3 color gamut and the color response is visually striking. But that's not all: The new AMOLED 2X panels can filter out almost all of the blue light they produce, with no apparent loss of color fidelity, Samsung says. The display is also VESA ClearMR and DisplayHDR TRUE BLACK 500 certified and has received SGS Eye Care Display certification for the guaranteed reduction of blue light. But that's all spec talk. What you need to know is the new OLED display is simply gorgeous and should be easier on your eyes.
Samsung's new OLED runs at up to 120Hz, a performance improvement that will deliver smoother inking and mousing, and allow for high frames-per-second gaming on the Galaxy Book3 Ultra (which boasts the most powerful GPU of the lineup). The new Galaxy Book3 family display is rated for 500 nits of output using HDR, 400 nits without.
The new OLED display employs an odd 16:10 display ratio of 2880×1800 pixels. This provides an upgrade past a 1440p display without quite touching the 3840×2160 resolution that characterizes a 4K display. It's worth noting that the Galaxy Book2 Pro series features 1080p, 60Hz panels. Thus the jump to the Book3 is a significant upgrade just on basic display specs alone.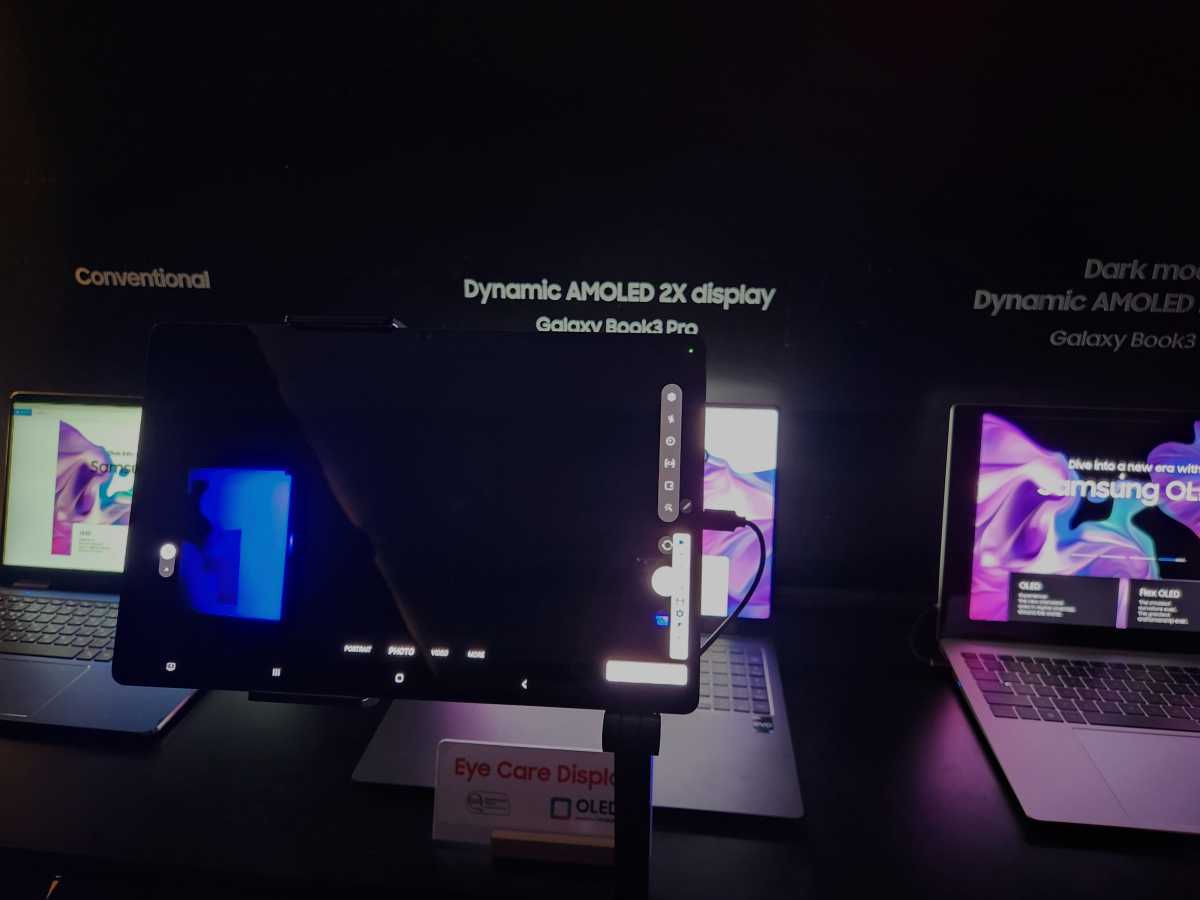 Mark Hachman / IDG
Samsung's Galaxy Books have always been a pleasure to view content on thanks to their gorgeous OLED screens. This holds true for the newest models and the wow-factor of Samsung's OLEDs is stronger than ever. In one tech demo designed to prove the superiority of its new display tech, Samsung demonstrated how the single backlight used in an LCD screen imbues even dark scenes with a "halo" effect, with a soft glow all around the image. That was contrasted with the pristine, unsullied blackness of its own OLED—a big benefit for video editors.
And for those who are sensitive to blue light, the new Galaxy Book might mean users can work longer hours without triggering a migraine. That could be a real plus for creators as well as anyone who uses her laptop for basic productivity work.
Samsung Galaxy Book3 Ultra, designed for creators
The 16-inch Galaxy Book Ultra contradicts some of what makes a Galaxy Book a Galaxy Book because at 16.5 mm thick, it's got the girth of a more traditional laptop. It's the hefty weight, though—3.9 pounds—that feels like the "creator-class" notebook that it really is. You'll be able to drop it in a laptop bag or backpack, but the weight feels noticeable in the hand. Mind you, it's not chunky like a gaming laptop. It's just a bit thicker than most laptops and noticeably thicker than the other Galaxy Book3 models.
Mark Hachman / IDG
The Book3 Ultra not only includes the option of either a 13th-gen Core i7 or i9, but more importantly, you can choose between an Nvidia GeForce RTX 4050 or 4070 laptop GPU. While those are on the low end of the new GeForce RTX 4-series mobile GPUs that Nvidia launched at CES, the company does claim they'll deliver better performance than the current GeForce 3080 mobile GPUs (though we don't know if that factors in Nvidia's frame-rate-easing DLSS 3 technology).
The Book3 Ultra memory options include 16GB or 32GB of LPDDR5, and you can choose between 512GB or 1TB of PCIe storage. Samsung says there's an additional expansion slot for an additional SSD.
The large, wide screen accommodates an extra island of number keys to the far right. But the display body itself is still thin, which has traditionally meant that Samsung has foregone the use of a Windows Hello depth camera in favor of an embedded fingerprint reader. Sadly, that's still the case. Samsung's keyboards have always deftly walked the line between being shallow while still providing a comfortable typing experience, and a few experimental phrases in Notepad confirmed they're still surprisingly usable.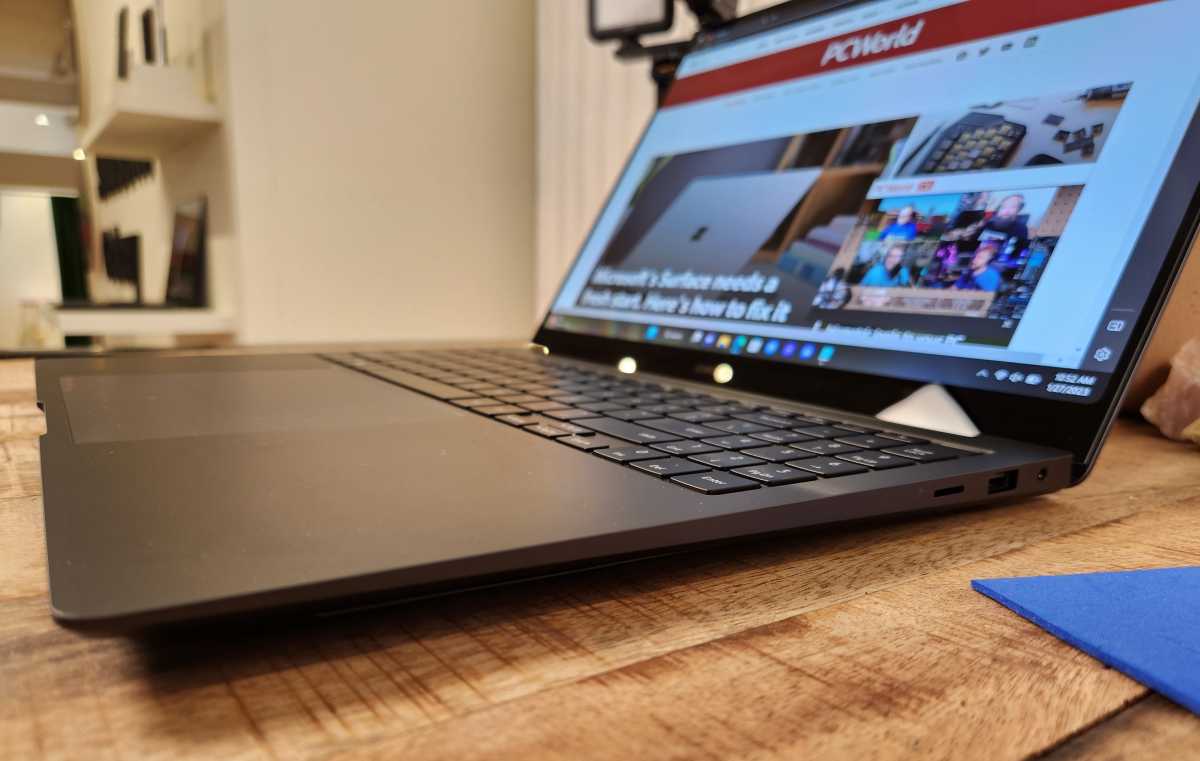 Mark Hachman / IDG
One key difference between the Galaxy Book3 Ultra and the rest of the Galaxy Book3 lineup is in the Ultra's dedicated HDMI 2.0 port, which supports enough bandwidth to display 4K video and 60 frames per second on an external display. Both the Galaxy Book 3 Pro and Pro 360 include an HDMI 1.4 port, which supports 4K video at 24 frames per second on an external display. So this is yet more evidence that the Book3 Ultra is designed for content creation, and the Book3 Pro and Pro 360 are destined for simpler tasks. Regardless, there's a pair of Thunderbolt 4 ports on all three Book3 models.
Finally, I have to call out Samsung's absolutely massive touchpad. It might not have been totally clickable all the way to the top in my brief hands-on, but make no mistake: It's enormous.
Samsung doesn't skimp on the Book3 Pro and Pro 360
The Galaxy Book3 Pro and Pro 360 are Samsung's more traditional laptops and let's face it, these are the models most people will buy.
A massive difference in price—$1,399 for the 16-inch Pro versus at least $2,199 for the Book3 Ultra—makes the Pro an attractive choice by comparison. The Pro's small $100 pricing delta between its two options, the 14- and the 16-inch, is also intriguing. The Pro 360, by contrast, offers three things that the other Galaxy Book3 models do not: a 360-degree convertible form factor, an integrated S Pen inside the box, and optional 5G capability for on-the-go connectivity.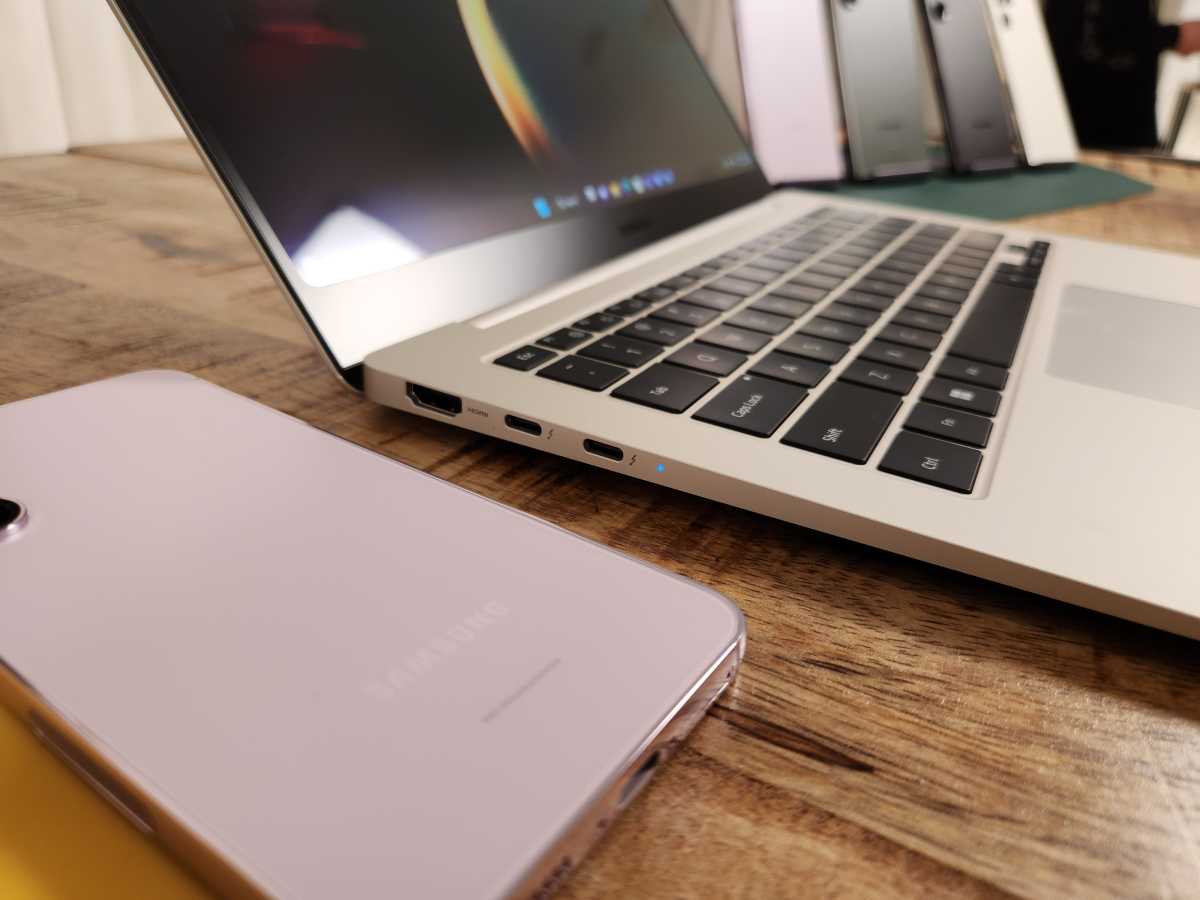 Mark Hachman / IDG
Otherwise, the Galaxy Book3 Pro and Pro 360 are remarkably similar to their gaudier cousin, the Ultra. For one, they offer identical display tech, only differing in size. (The Galaxy Book3 Pro 360 is offered in just a single 16-inch configuration.) You can also get the Pro and Pro 360 in the same memory and storage amounts as the Ultra, along with a smaller 8GB RAM/256GB SSD option that helps keep pricing more affordable. Samsung also offers an identical port configuration, with two Thunderbolt 4 ports and an HDMI port option.
On paper, the two Pro models also differ very little in their starting price. They do differ fairly substantially in their weight, however. The 16-inch weighs almost a pound more than the 14-inch, a svelte 2.42 pounds.
The Pro and Pro 360 models are offered in both Graphite and Beige while the Ultra ships only in the Graphite color scheme.
The Galaxy Book3 Pro 360 ships the S Pen in-box, though it must be stored separately rather than in a holster. We didn't have much time to test it, but we confirmed that the pen inks as expected. Unfortunately, we weren't able to test for ink judder.
Mark Hachman / IDG
Below we've summarized the specifications of all three Galaxy Book3 laptops:
Samsung Galaxy Book3 Ultra specifications:
Processor: 13th-gen Intel Core i7/i9
Display: 16-inch (2,880×1800), 120Hz AMOLED 2X, 400 nits, 120% DCI-P3 color volume
Memory: 16GB/32GB LPDDR5
Storage: 512GB/1TB SSD (1TB as tested) plus expansion slot
Graphics: Nvidia GeForce RTX 4050/4070 Laptop GPU
Ports: 2 Thunderbolt 4, USB Type-A ,HDMI 2.0, microSD, Headphone/Mic
Security: Fingerprint reader
Camera: 1080p (user-facing)
Battery: 76Wh
Wireless: Wi-Fi 6E (Gig+), 802.11 ax 2×2, Bluetooth 5.1
Audio: KG Quad Speaker (two 5W woofers, two 2W tweeters), Smart Amp, Dolby Atmos
Operating system: Windows 11
Dimensions:  14.00 x 9.85 x 0.65in. (16.5mm)
Weight: 3.99lbs (rated)
Colors: Graphite
Prices:  beginning at $2,199-$2,799
Samsung Galaxy Book3 Pro specifications:
Processor: 13th-gen Intel Core i7/i9
Display: 14-inch/16-inch: (2,880×1800), 120Hz AMOLED 2X, 400 nits, 120% DCI-P3 color volume
Memory: 8/GB16GB/32GB LPDDR5
Storage: 256GB/512GB/1TB SSD (1TB as tested) plus expansion slot
Graphics: Iris Xe
Ports: 2 Thunderbolt 4, USB Type-A ,HDMI 2.0, microSD, Headphone/Mic
Security: Fingerprint reader
Camera: 1080p (user-facing)
Battery: 63Wh/76Wh
Wireless: Wi-Fi 6E (Gig+), 802.11 ax 2×2, Bluetooth 5.1
Audio: KG Quad Speaker (two 5W woofers, two 2W tweeters), Smart Amp, Dolby Atmos
Operating system: Windows 11
Dimensions:  12.30 x 8.81 x 0.44in. / 14.00 x 9.85 x 0.50in. (12.5mm)
Weight: 2.42lbs/3.4lbs (rated)
Colors: Graphite, Beige
Prices:  beginning at $1,299/$1,399
Samsung Galaxy Book3 Pro 360 specifications:
Processor: 13th-gen Intel Core i7/i9
Display: 16-inch: (2,880×1800), 120Hz AMOLED 2X, 400 nits, 120% DCI-P3 color volume
Memory: 8/GB16GB/32GB LPDDR5
Storage: 256GB/512GB/1TB SSD (1TB as tested) plus expansion slot
Graphics: Iris Xe
Ports: 2 Thunderbolt 4, USB Type-A ,HDMI 2.0, microSD, Headphone/Mic
Security: Fingerprint reader
Camera: 1080p (user-facing)
Battery: 63Wh/76Wh
Wireless: Wi-Fi 6E (Gig+), 802.11 ax 2×2, Bluetooth 5.1; 5G Sub6 optional
Audio: KG Quad Speaker (two 5W woofers, two 2W tweeters), Smart Amp, Dolby Atmos
Operating system: Windows 11
Dimensions:  12.30 x 9.92 x 0.50in. (12.8mm)
Weight: 3.7lbs (rated)
Colors: Graphite, Beige
Prices:  beginning at $1,899