Tech News
Teamgroup C212 review: This USB drive is basically a portable SSD
At a glance
Expert's Rating
Pros
Extremely fast for a thumb drive
Up to 1TB of capacity
Five-year warranty
Cons
Slide-out connector can be problematic in close quarters
Our Verdict
The Teamgroup C212 is unusually fast and capacious storage in a tiny thumb-drive form factor for a relatively low price. What's not to like?
Price When Reviewed
$98 for 1TB
Best Prices Today: Teamgroup C212 USB thumb drive
$92.99
$99.99
Having reached capacities of 1TB and beyond, USB thumb drives put a lot of cable-less storage in your pocket. However, most examples of the species suffer a rather salient deficiency—slow performance. Not so with Teamgroup's C212, the object of this review. It's capable of sustained transfer speeds in excess of 400MBps to 600MBps—almost five times the norm, depending the size of the data set being read or written. That puts it on par with the speed of SATA SSDs found inside computers. Buckle up!
Note: See our ongoing roundup of the best external drives to learn more about competing products, what to look for in an external drive, and buying recommendations.
Teamgroup C212: Features
The C212 is a USB 3.2 Gen 2 (10Gbps) thumb drive that measures a mere 2.6-inches long (3.08 inches with the connector extended) by 0.8-inches wide, by 0.46-inches thick (including the ejection switch). Weight is a mere 9 grams.
It's available in three capacities: 256GB for $38, 512GB for $73, and 1TB for $98. Those were the prices from Teamgroup on Amazon at the time of this writing, with the 512GB drive discounted from $80.
The drive uses a Type-A connector that retracts into the body of the drive by means of slide switch. This protects the connector when the drive is in your bag or pocket. But I have found that when you're in close quarters or your hand is at an awkward angle, it can be tricky to keep your finger on a slide switch long enough to get the connector into its port.
Note that the C212 is hardly the first thumb drive to employ a retractable connector, and every one I've tested suffers the same issue. I just infinitely prefer a removable cap and would love to see the retractable connector concept go the way of the dinosaurs.
Teamgroup didn't provide a TBW rating, but the C212 is warrantied for five years—a very generous guarantee for the category.
Teamgroup C212: Performance
With smaller amounts of data, the C212 reached Teamgroup's claimed read transfer-rate of of 600MBps and write rate of 500MBps. In fact, it surpassed those rates under CrystalDiskMark 8 when we ran the smaller 1GB data set. That means for most tasks, you'll see the listed performance.
However, when we threw the larger 64GB data set (our current standard test) at it, speeds declined to around 450MBps. Not the claimed speeds, but still darn fast for a thumb drive.
The CrystalDiskMark 8 results may not look fantastic by comparison, but this is the first thumb drive we've kicked the tires on using the new test bed. Hence, we opted to compare it to the Samsung T7 Touch and LaCie Portable SSD, which are larger external SSDs.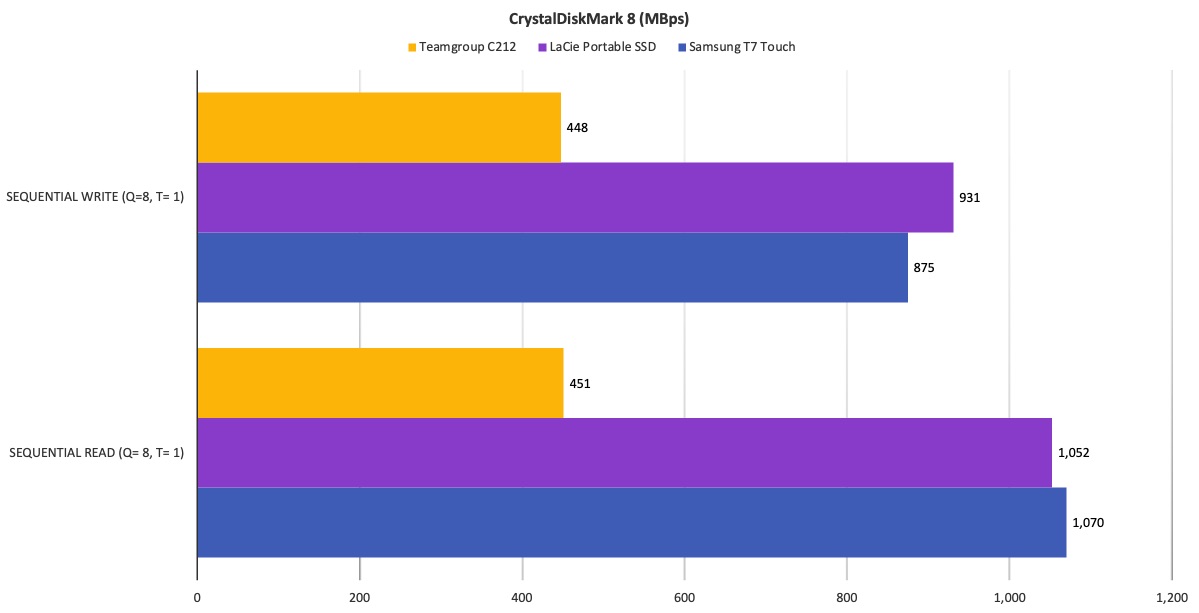 Real-world performance was great for a thumb drive, if not for a larger portable SSD such as the Samsung T7 Shield and LaCie Portable we're comparing it to. We didn't have any comparable thumb drives on hand for testing and comparison. However, I can tell you that if you see 125MBps from a standard thumb drive, you're doing quite well. Most are far slower than that—as low as 25MBps in my casual tests for this review.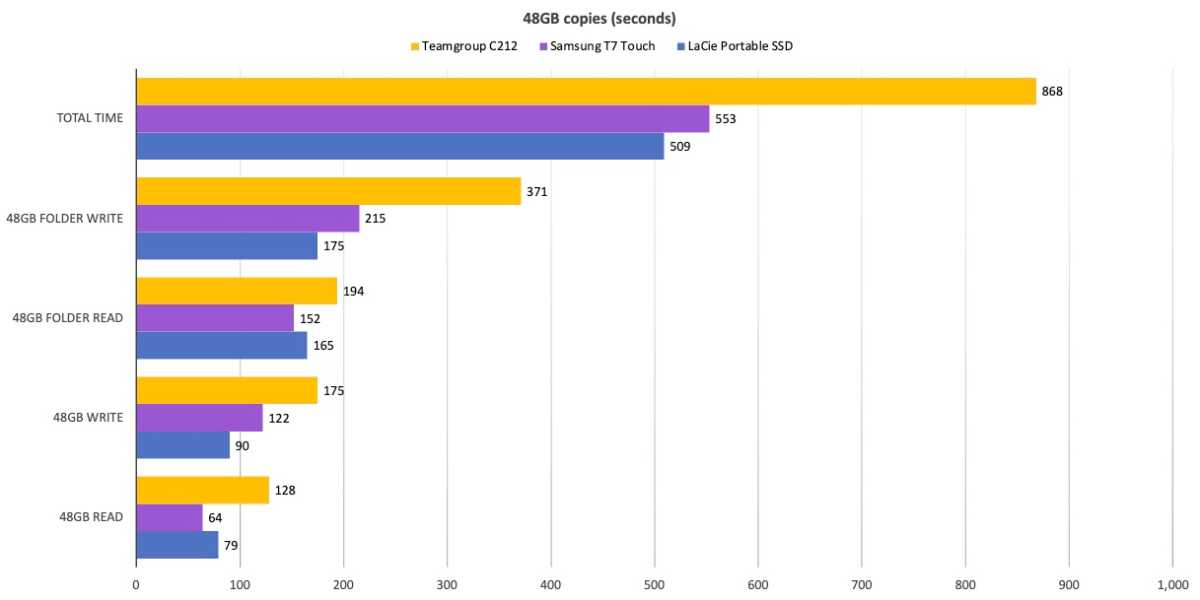 What you won't want the C212 for is backing up very large data sets. The time below is rather tragic for an SSD, though again, it's mitigated by the fact that it's a thumb drive.
As you'll see in the capture below, most of the reason for the lethargic 450GB write was that the drive slows down drastically when it runs out of secondary cache. But honestly, write speeds of 210MBps are hardly the slowest we've seen out of an SSD, which can drop to as little as 100MBps even with internal TLC/QLC drives.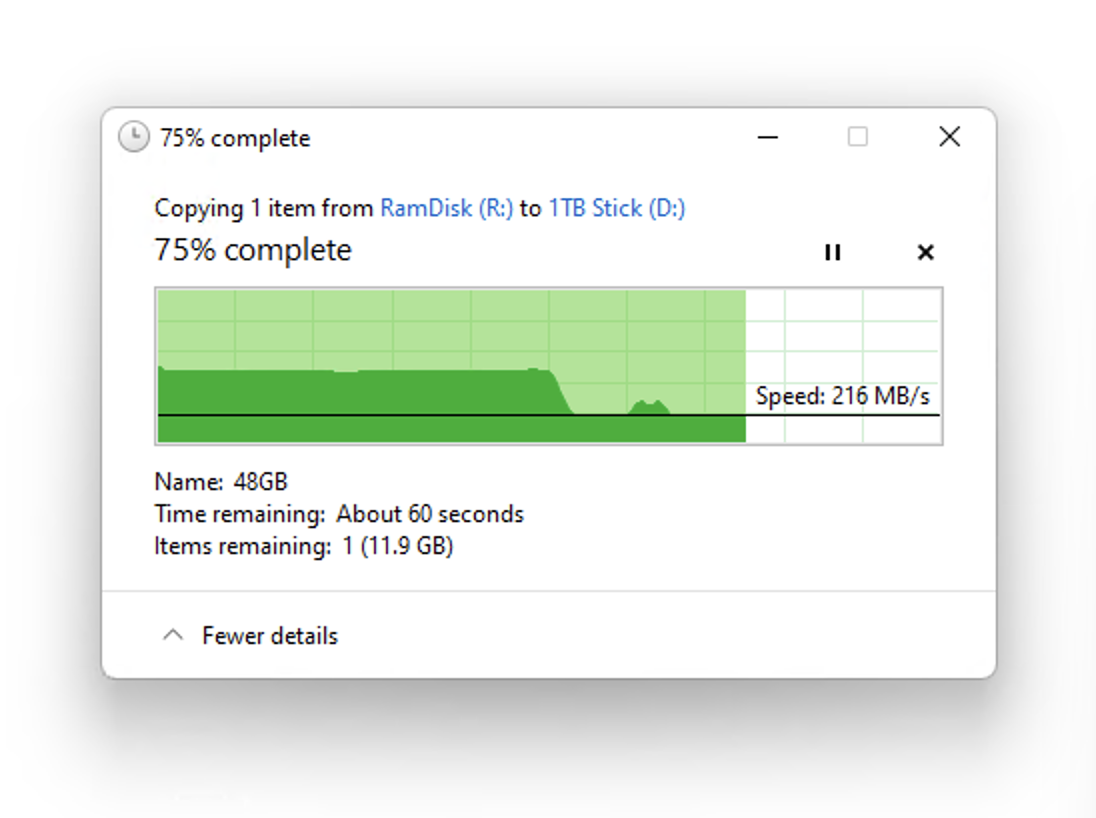 Compared to larger external SSDs, the C212 is somewhat slow. Compared to most other thumb drives, it's lightning fast. Buy according to need.
Should you buy a Teamgroup C212 USB drive?
There are few more convenient ways to physically transport data than the Teamgroup C212. If you have 10Gbps ports, it will save you lots of time over a run-of-the-mill thumb drive during backup and other chores. Small, convenient, fast—this is definitely one handy product from Teamgroup.
External drive tests are run using Windows 11 64-bit on an MSI MEG X570/AMD Ryzen 3700X combo with four 16GB Kingston 2666MHz DDR4 modules, a Zotac (Nvidia) GT 710 1GB x2 PCIe graphics card, and an ASMedia ASM3242 USB 3.2×2 card. Copy tests utilize an ImDisk RAM disk using 58GB of the 64GB total memory.

Each test is performed on a newly formatted and TRIM'd drive so the results are optimal. Over time, as a drive fills up, performance will decrease due to less NAND for caching and other factors.

The performance numbers shown apply only to the drive we were shipped and of the capacity tested. SSD performance can vary by capacity due to more or fewer chips to shotgun reads/writes across and the amount of NAND available for secondary caching. Vendors also occasionally swap components, though we've never known Samsung to do so.