Tech News
Tested: Microsoft's DirectStorage tech signals the sunset of SATA SSDs
After a long build up, Microsoft's much-awaited DirectStorage technology has finally arrived on PCs, promising blink-and-you'll-miss-it loading times—and our early test results in Forspoken, the first DirectStorage game, say it may finally be time to start waving bye bye to SATA SSDs.
What is Microsoft DirectStorage?
DirectStorage's most touted feature is moving the job of decompressing game assets (such as textures and models) from the CPU to the GPU. This frees up CPU resources and greatly speeds up the process by using the massive parallel engines available in today's GPUs, enabling ultra-fast load times and asset streaming…assuming your system includes a mandatory NVMe SSD, that is. Here's a deeper look at DirectStorage if you're interested.
Further reading: The best SSDs: Reviews and buying advice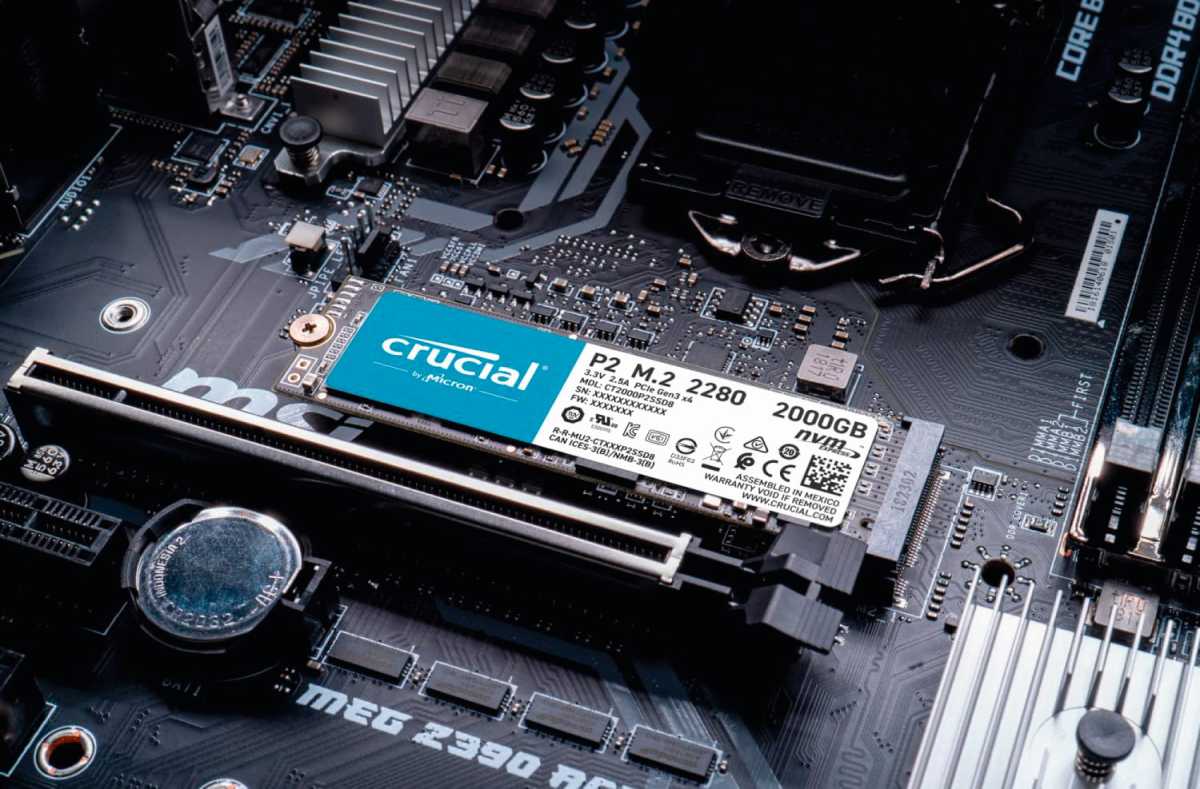 Crucial
To find out how effective DirectStorage is today, we sat down with an MSI Infinite RS desktop system outfitted with an Intel Core i9-13900KF CPU, MSI GeForce RTX 4090 GPU, and 32GB of Adata DDR5/5200 in an MSI Z790 Pro motherboard running Windows 11 22H2.
Although the GPU can (and will) have an impact on DirectStorage performance, I really don't think gamers are going to change their GPU for the technology so today's testing is laser-focused on storage implications.
How we tested
The MSI Infinite RS desktop came equipped with a PCIe 4.0 NVME 2TB MSI M480 Spatium SSD built around a Phison PS5018-E18 controller. The machine also came with a secondary 2TB WD Blue 7,200 RPM hard drive.
For our tests, I also included a 2TB SK Hynix P41 NVMe PCIe 4.0 drive, a 1TB XPG Atom 50 NVMe PCIe 4.0 drive, an older 512GB Samsung PM951 NVMe PCIe 3.0 SSD, and a now-discontinued Intel Optane 800P NVMe PCIe 3.0 drive as well. To round out our testing, I also included a 1TB Samsung 860 EVO and a 2TB Samsung 870 QVO drive, both running on a slower SATA connection rather than NVMe. Microsoft built DirectStorage specifically for NVMe drives.
Most storage reviews use the popular CrystalDiskMark 8, so let's start there for a look at general performance of these SSDs. I'll only show the read performance of the drives since that's what mostly matters in DirectStorage—how fast you can transfer game assets to the GPU.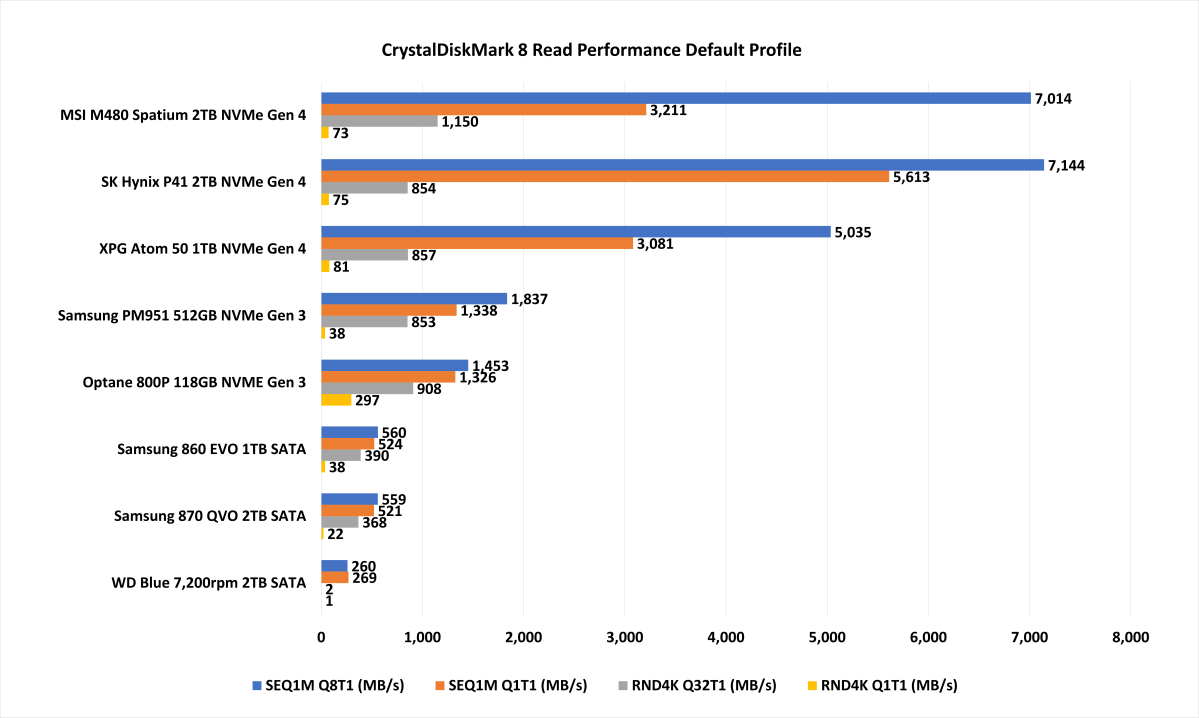 IDG
As you can see, using the default CrystalDiskMark configuration, the MSI M480 and SK Hynix P41 top the charts in sequential transfer speeds (using a queue depth of eight and a single thread). Among all of the results the benchmark spits out, this is the one often quoted in marketing materials and by consumers. I want to point out the XPG Atom 50's oddball performance. The drive is actually a budget "host memory buffer" model. Rather than integrating a DRAM cache on the SSD itself, like normal, it relies on the PC's system memory for the task instead.
Microsoft DirectStorage benchmarks
So how does the performance of a drive in CrystalDiskMark translate to the brave new world of DirectStorage? To find out, we used the original DirectStorage 1.1 demo released by Microsoft last year. The demo essentially tasks the GPU with decompressing several gigabytes of models and textures on the GPU, then spits out several results such as the bandwidth and time used.
We record the time it takes to load the scene as well as what the demo reports in bandwidth. The results point to a huge bandwidth advantage on the Gen 4 drives. Interestingly, the budget XPG Atom 50 using host-based DRAM actually has a slight edge—but all three of the Gen 4 drives we looked at were close enough it probably didn't matter. 
The older Samsung PM951 gets punished in bandwidth, as does the Optane drive. The real bad news is all of the SATA devices end up dead even, regardless of whether running NAND or spinning platters, so its the drive interface that's likely the bottleneck here. Again: Microsoft requires an NVMe SSD for DirectStorage to work properly.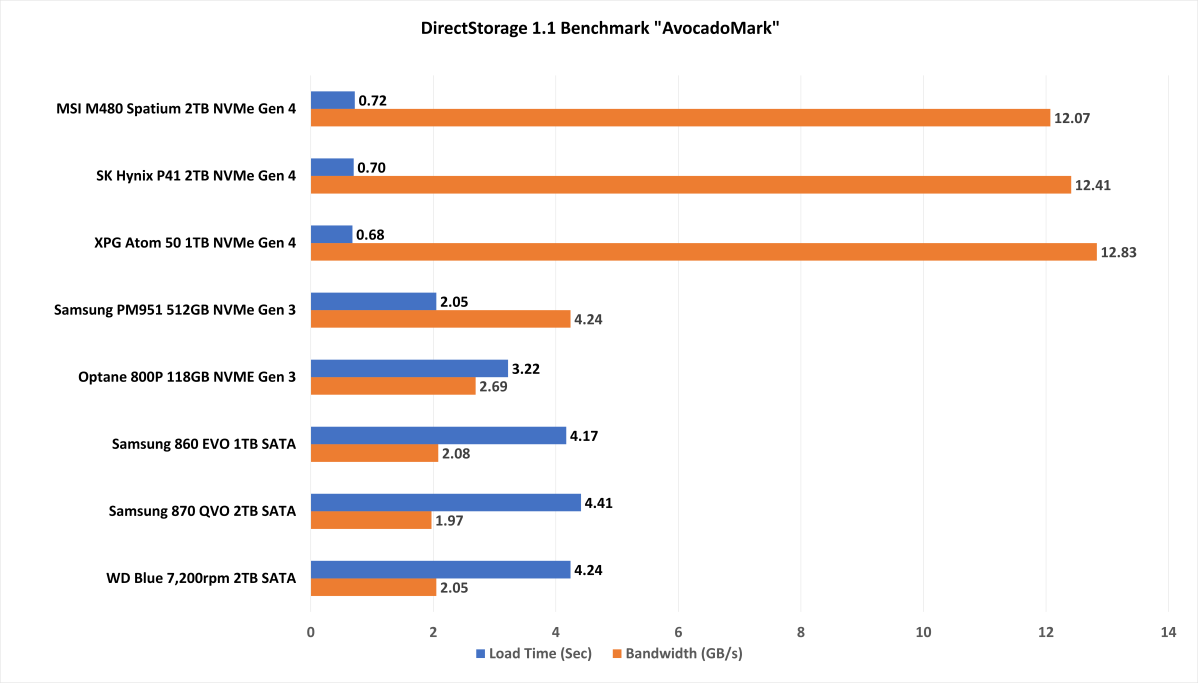 IDG
In actual load times, however, it's all likely closer than you expect in the DirectStorage 1.1 demo. All three Gen 4 drives lead the way in loading and decompressing the assets in under a second. That elderly PM951 Gen 3 drive isn't so bad though, clocking in at 2 seconds. The last NVMe drive, the Intel 800P, loses handily to all of the other M.2 drives. That likely indicates the one thing Optane was really good at—serving up small files at low and realistic queue depths—won't matter as much in a DirectStorage world. So goodbye Optane, you were probably right to quit when you did.
Microsoft's DirectStorage demo, however, is just a tool made by the company for developers to get their feet wet. How do the same drives fare when faced with a benchmark from an actual launched game? For that we used the first-ever DirectStorage game, Square Enix's Forspoken.
Forspoken's built-in benchmark loads game assets for seven different scenes and reports how long it took to load, as well as the frame rate. Again, we're focused solely on how DirectStorage impacts storage performance, so we ignored the frame rate, but we used the same game settings across all of the runs.
The Gen 4 drives absolutely scream through loading the different scenes, although the Atom 50 slightly lags in the first. It's not a big deal though. We should note that while our results are an average of multiple runs, the results in the Forspoken benchmark exhibited a larger than expected amount of variability at times, especially with slower devices.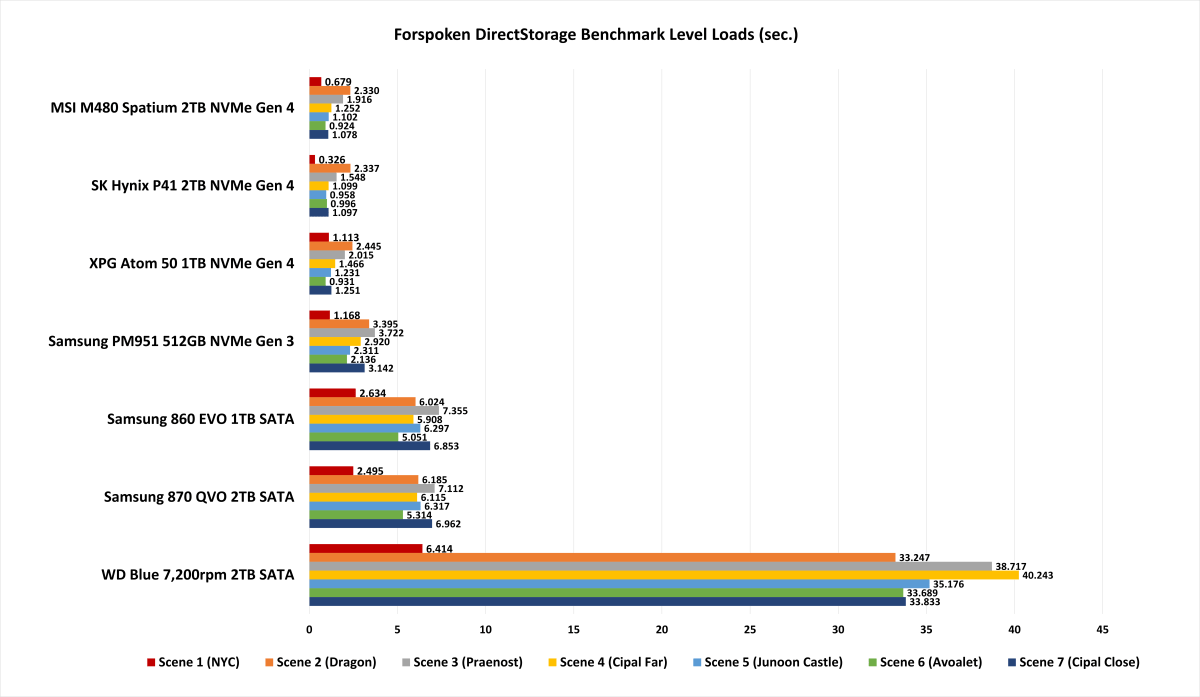 IDG
As you can see, the ancient Samsung PM951 Gen 3 SSD also can't keep up with the newer Gen 4 drives—but in most of the scenes, it's still really fast.
We can't say that about the hard drive. The DirectStorage demo says it ain't that bad, but Forspoken says otherwise. In fact, the hard drive is unsurprisingly horrible. There's a reason most gamers switched to SSDs long ago.
But the real question is how much of a bump you get going from a SATA SSD to a NVMe M.2 SSD in a DirectStorage game. Well, SATA drives are substantially slower. For example, in scene 3, the Samsung 860 Evo takes 7.4 seconds to load the scene vs the 1.9 seconds on the Spatium SSD. Across all of the scenes, the MSI M480 Spatium NVMe drive cuts the load times by 77 percent.
The upshot is SATA SSDs, which until now have basically performed no different than NVMe SSDs in games, are only going to lose ground as game developers and hardware vendors continue to optimize for NVMe SSDs and DirectStorage, which is now part of Windows.
Is that SATA SSD done today? No. In fact, DirectStorage will have very little impact on the vast majority of existing games people play, but it's clear that the sun is finally starting to set on SATA SSDs.